Vom 24. Januar bis 31. Mai 2015 könnt Ihr Euch die neue Ausstellung von Yadegar Asisi im Panometer in Dresden anschauen.
Heute vor 70 Jahren fand der Bomben-Angriff der alliierten Streitkräfte auf Dresden statt. Das schreckliche Ergebnis zeigt Asisi auf einem 360° Panorama mit dem Titel "DRESDEN 1945″.
Das Riesenvlies visualisiert die Bombenangriffe und zeigt eine Stadt im Augenblick ihres Tiefpunktes.
Ihr seht dabei die Elbmetropole unmittelbar nach der Bombardierung im Maßstab 1:1 vom Rathausturm aus.
Einen kleinen Vorgeschmack was Euch erwartet gibts unter: www.youtube.com/watch?v=NPUe337xsBg
---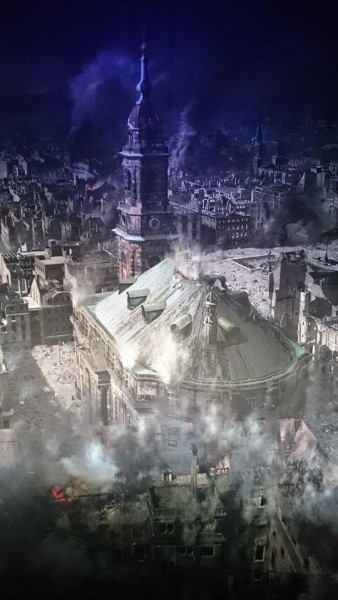 Until the 31st of May 2015 you can visit the exhibition by Yadegar Asis inside the Panometer Dresden.
Today 70 years ago the allied forces bombed the Dresden city and destroyed most of it. You can see the result on a 360° panorama – titled "DRESDEN 1945″.
The bombing is visualized on a scale of 1:1 – viewed from the city town hall.
View the video for an impression whats to see there: www.youtube.com/watch?v=NPUe337xsBg
---
Panometer Dresden
Gasanstaltstraße 8b
01237 Dresden
Öffnungszeiten:
Di – Fr                  10 – 17 Uhr
Sa, So, Feiertage 10 – 18 Uhr
Mo geschlossen   (closed)
www.asisi.de/de/ausstellungsorte/dresden-dresden1945/service.html