In den Sommermonaten werden wir hin u wieder gefragt, was Dresden an Outdoor-Aktivitäten zu bieten hat. Zu allererst fallen uns da natürlich die verschiedensten Wander- und Fahrradtouren ein, die wir Euch an der Rezeption mit allerlei Tips und Hinweisen gerne mit auf den Weg geben.
Wer das bei einem mehrtägigen Aufenthalt bereits erlebt hat, oder in kleineren Gruppen (Geburtstag, Junggesellen(-in)-Abschied, Gatherings etc.) unterwegs ist und etwas Action erleben möchte, dem empfehlen wir auf jeden Fall den Waldseilpark Dresden-Bühlau.
Damit wir an der Rezeption auch wissen wovon wir sprechen, haben wir uns für Euch in luftige Höhen begeben und liefern Euch heute unseren Erlebnisbericht.
Ihr erreicht den Waldseilpark ganz problemlos mit der Straßenbahn Linie 11 (20min), oder per pedes (ca 30min) und natürlich auch per Auto (ca 15min). Ihr steigt an der Haltestelle Bautzen-Rothenburger Straße in die Linie 11 und fahrt bis Grundstraße. Von dort sind es knapp 5min bis zum Park zu laufen.
Der Waldseilpark liegt in einem wunderschönen ehemaligen Naturbad mit einem mittig gelegenen Wasserbecken. Links und recht davon befinden sich 12 Parcours mit über 100 Elementen und unterschiedlichen Schwierigkeitsstufen, die es zu meistern gilt. Dabei geht es über alle möglichen Taue, Balken, Brücken und Hindernisse, über die man versucht zu klettern, zu balancieren, zu schwingen oder zu springen.
Ein bisschen schwindelfrei zu sein ist natürlich bei den luftigen Höhen durchaus empfehlenswert 🙂 Aber auch kleine Angsthasen werden nach den ersten einfachen Parcours mit jedem Schritt mutiger. Dank eines wirklich ausgefeilten Sicherungssystems kann nämlich nichts passieren. Neben Klettergeschirr und Helm, seid Ihr außerdem mit 2 sogenannten Smarties ausgestattet. Diese sind zur Eigensicherung stets eingehakt. Jeder einzelne Parkour besteht aus mehreren Elementen. Jedes Element hat am Anfang und Ende eine Plattform zum verschnaufen. Ihr seid immer mit beiden Smarties an einem Drahtseil eingehängt bzw. beim umsetzen ist garantiert, dass Ihr immer zumindest mit einem der Smarties gesichert bleibt. Sollte beim klettern mal ein Fehler passieren, fangen Euch beide Smarties auf, sodass Ihr weiterhin sicher in den Seilen hängt.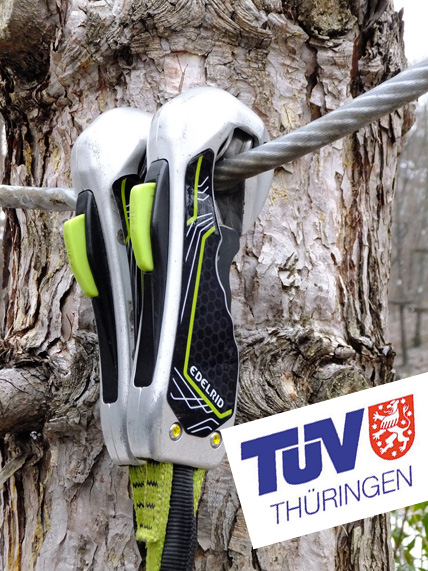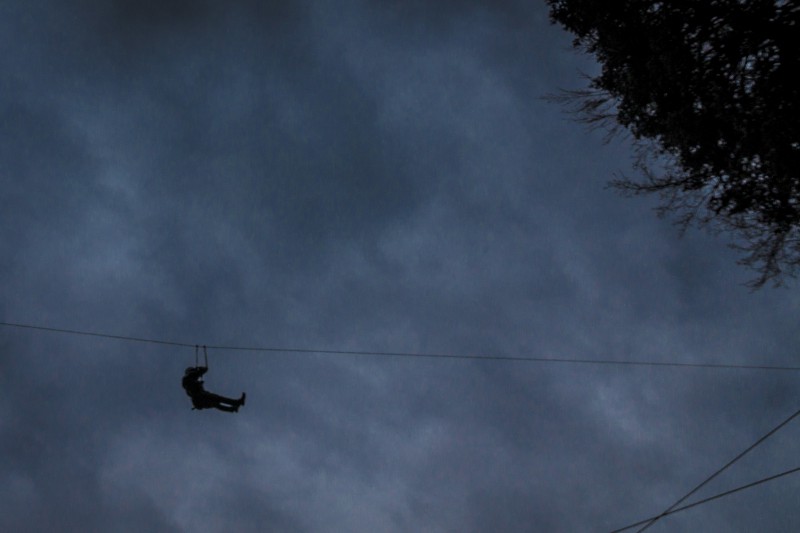 Zu Anfang gibt es eine kurze Unterweisung in die Technik und deren Funktionsweise. Anschließend habt Ihr 2h Zeit den Parkour selbstständig zu erkunden. Wohl am meisten Spaß haben uns (nach einer kurzen Phase der Überwindung) die vielen Flying Foxes gemacht. Hier saust Ihr von einer Talseite zur Anderen das gespannte Seil hinunter und landet wohlbehalten auf der gegenüberliegenden Plattform. Neben den Flying Foxes gibt es sehr viel Abwechslung. So balanciert Ihr auf Balken, versucht auf verschiedensten Seilen Halt zu finden, versteht was Körperspannung bedeutet, klettert durch Röhren, surft auf Snowboards von Baum zu Baum oder versucht auf kleinen Holzbrettern die Balance zu halten. Hier ist wirklich für jedes Alter und für jeden Anspruch etwas dabei.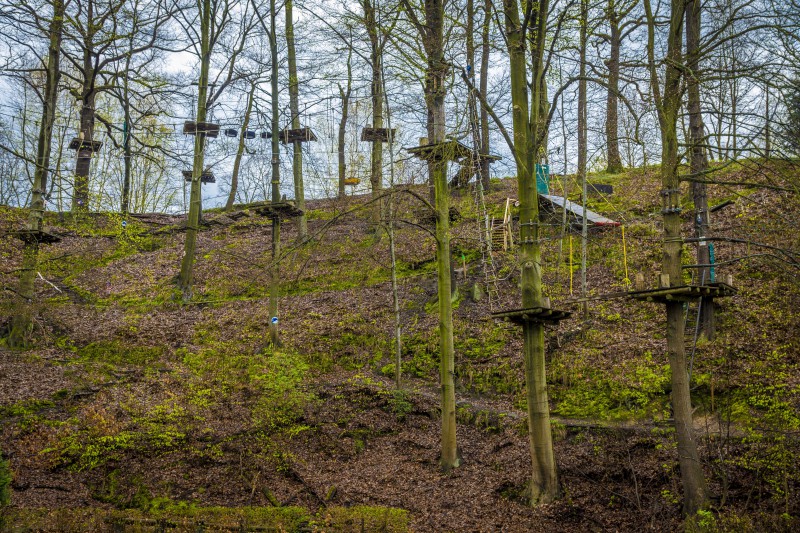 Keine Sorge – die 2h reichen locker aus damit Ihr am Ende ordentlich Hunger habt. Nehmt Euch also was zu Essen mit oder nutzt den Imbiss im Park  zur Stärkung. Von der Terrasse habt ihr einen wunderschönen Ausblick auf den gesamten Park. Für größere Gruppen wird auch ein Grillplatz zur Miete angeboten. Gerade für die Sommermonate am Ende der Kletterpartie sehr empfehlenswert.
Wir hatten 2h wirklich eine Menge Spaß im Team und können Euch den Ausflug wärmstens empfehlen.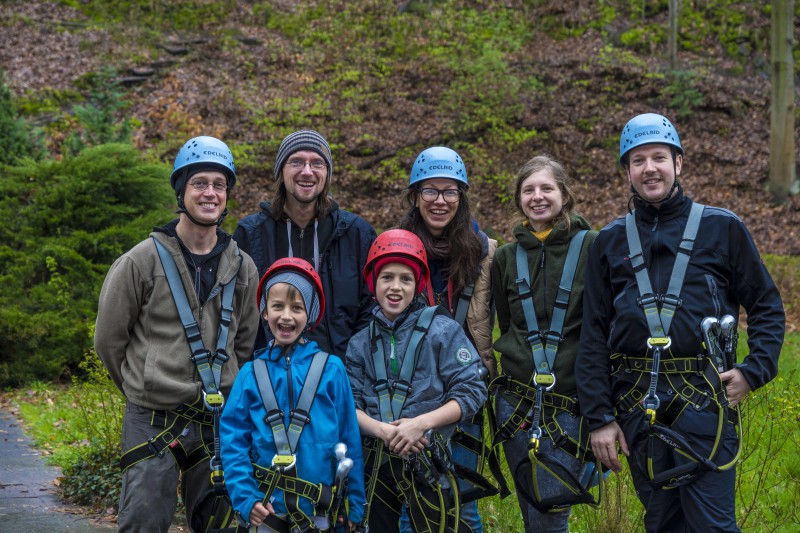 Für mehr Bilder & Videos könnt Ihr hier auf der Homepage vorbei schauen.
Hier die Preise:
Erwachsene: Montag bis Freitag: 17,00 € (Wochenende/Feiertag +2€)
Studenten, Azubis, Schüler: 16,00 € (Wochenende/Feiertag +2€)
Kinder und Jugendliche (bis 16J): 13,00 € (Wochenende/Feiertag +2€)
Öffnungszeiten April – Oktober
Mo bis Fr: 14 – 20:00 Uhr
Sa, So, Feiertag: 10 – 20:00 Uhr
Ferien in Sachsen: 10 – 20:00 Uhr
Kontakt:
Waldseilpark Dresden-Bühlau
Grundstr. 169 und Bachmannstr. 6
(ehemaliges Bühlauer Bad)
01324 Dresden
Funk 0172/3568650
Fax 03528/411482
E-Mail: info@waldseilpark-dresden.de
Web: waldseilpark-dresden.de
Hier noch ein paar Bilder von uns: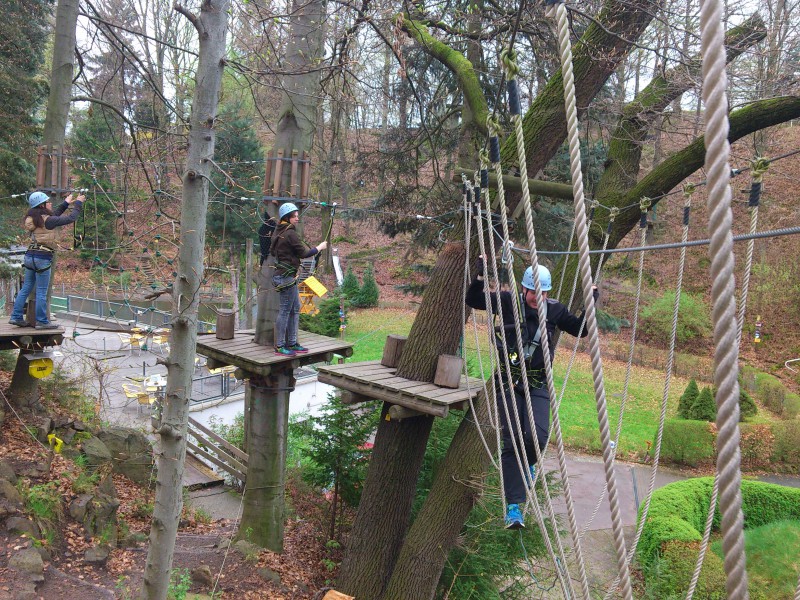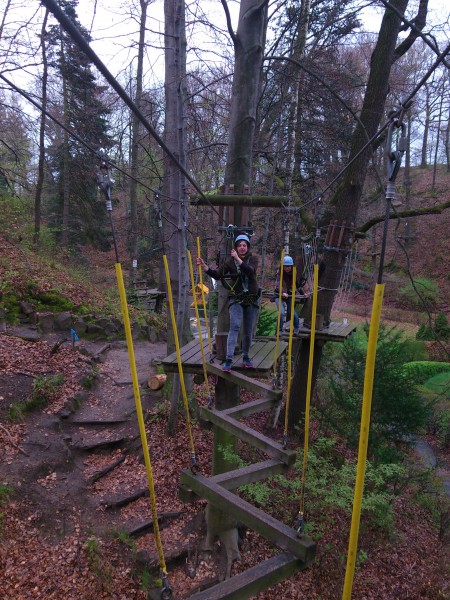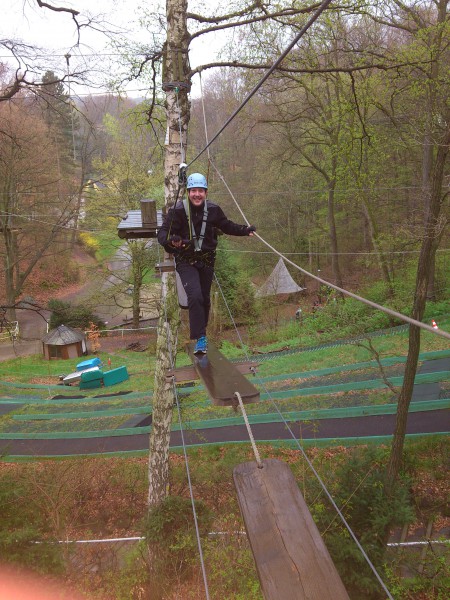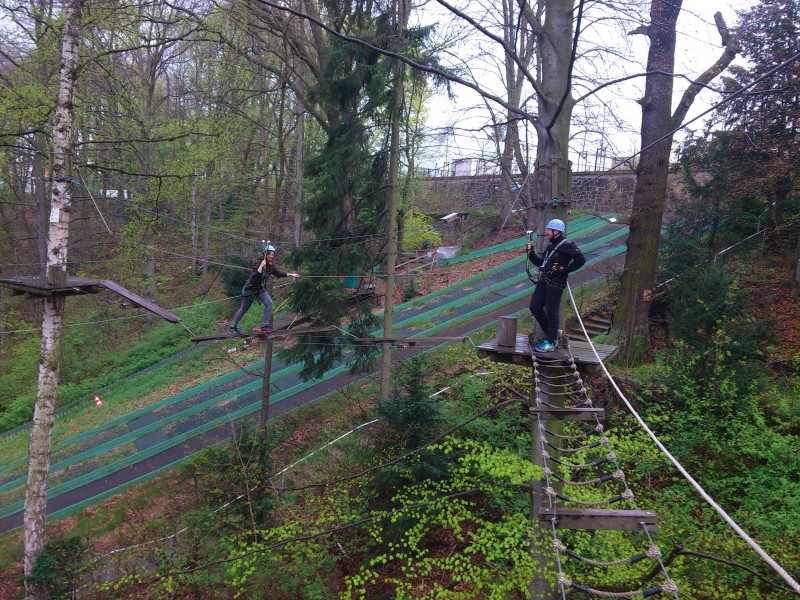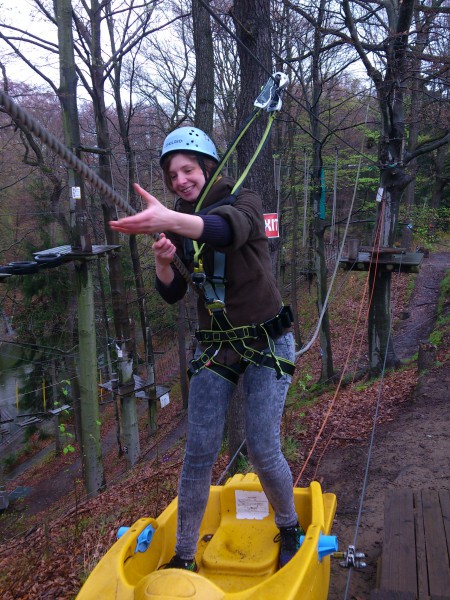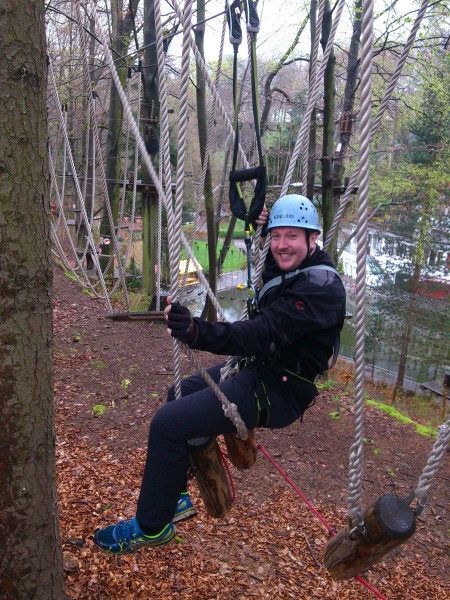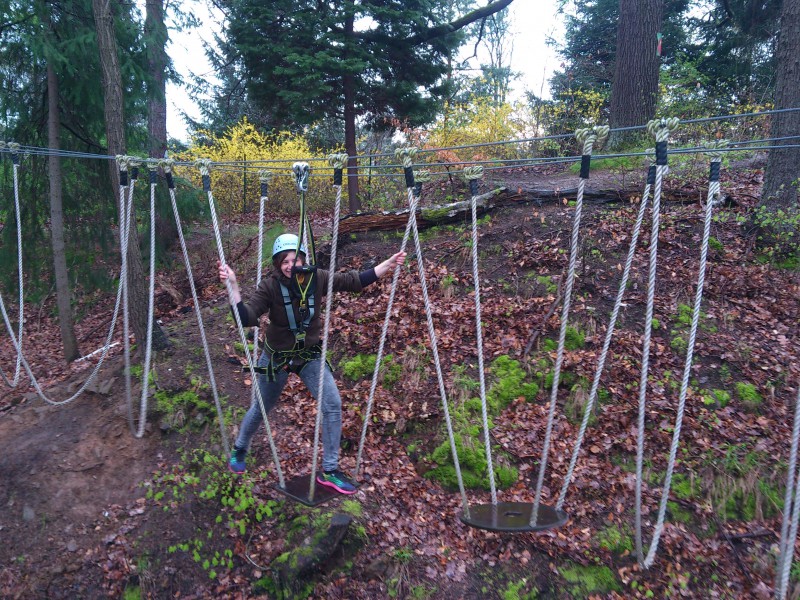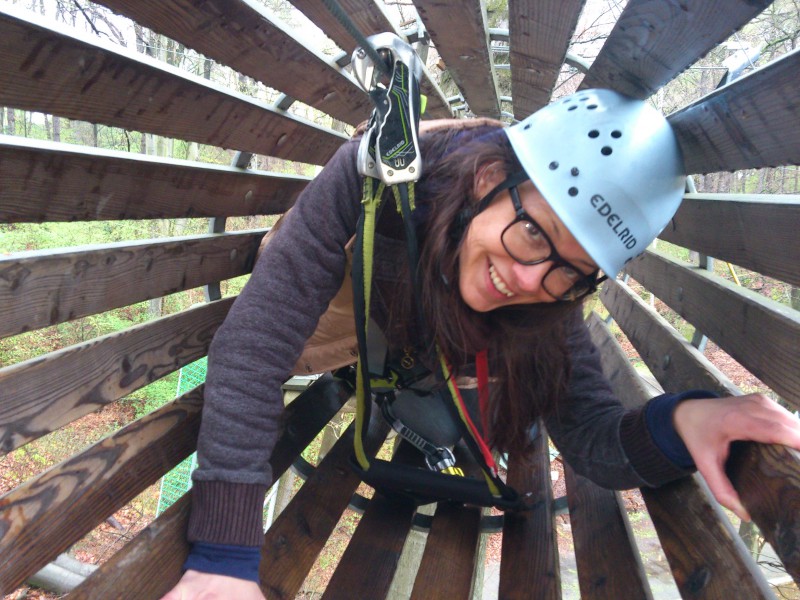 ---
During summer season we get questioned from time to time about any kinds of outdoor activities.
At first of course there are a wide variety of hiking or bike tours which crosses our minds and which we are happy to give you on your way exploring the surroundings of Dresden.
If you already did those things, or if you are traveling with a group of people looking to get some action, we can suggest the high rope course in Dresden-Bühlau.
We gave it a try to to past forward our impression out of first hand.
You can easily reach it by public transport (20min), by bike (30min) or by car (15min). Catch Tram 11 at "Bautzen-Rothenburger Straße) and get off at "Grundstraße". From there it's about 5min to walk.
The high rope course is located in a wonderfull former ecological swimming pool. On the left and right end there are two hills located with 12 different parcours spread around reaching from easy to hard level. Each parkour contains of several elements which have to be mastered by you.
You'll pass all kinds of ropes, beams, bridges and hurdles while you try to climb, balance, swing and jump to get to the next plattform.
It's of course handy to be free of giddiness 🙂 But also little milquetoasts will get around well after accomplishing the first easy parcours. The safety system is set of one of the highest safety levels available. You are always secured with at least one so called Smartie at a time. While going through one element of the parkour you are always secured by both Smarties. So really nothing can go wrong at all.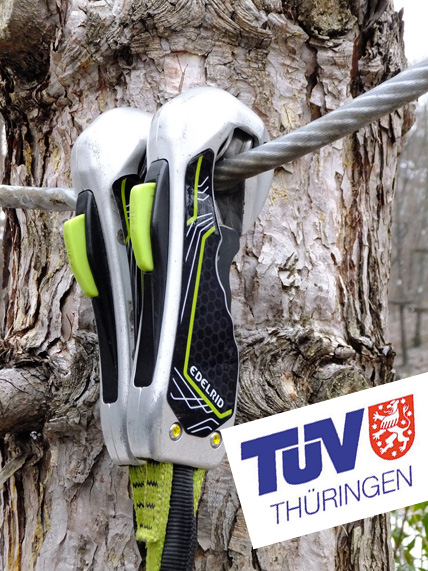 As said before: Each parkour consist of several elements. At the beginning and at the end of each element there are platforms to rest. If you slip away of one beam, both Smarties will catch and safe you.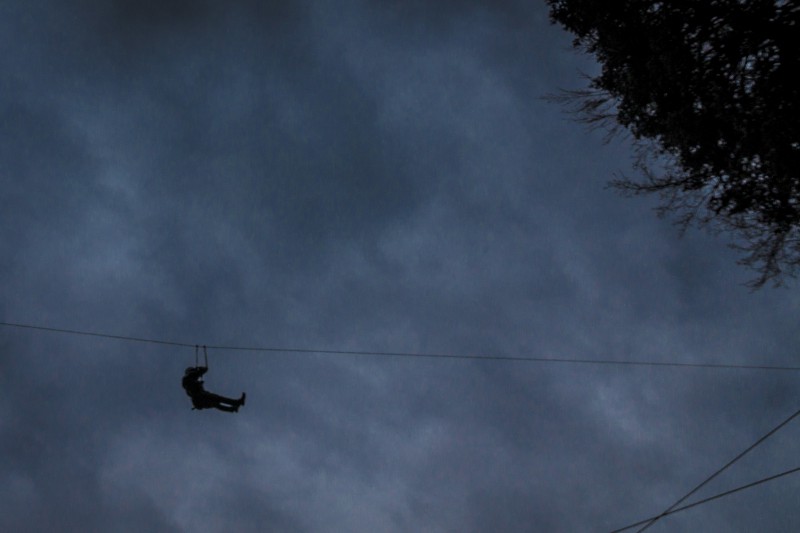 After a short introduction about the safety system and about how to go through the parkour, you are off to explore all tracks and elements reaching from easy to hard. The most fun part is one of the many flying foxes. Here you "fly" along a robe from one hill to the other side. Apart from the flying foxes you'll get a great variety of beams, ropes, tubes to keep balance on and boards to be surfed from tree to tree.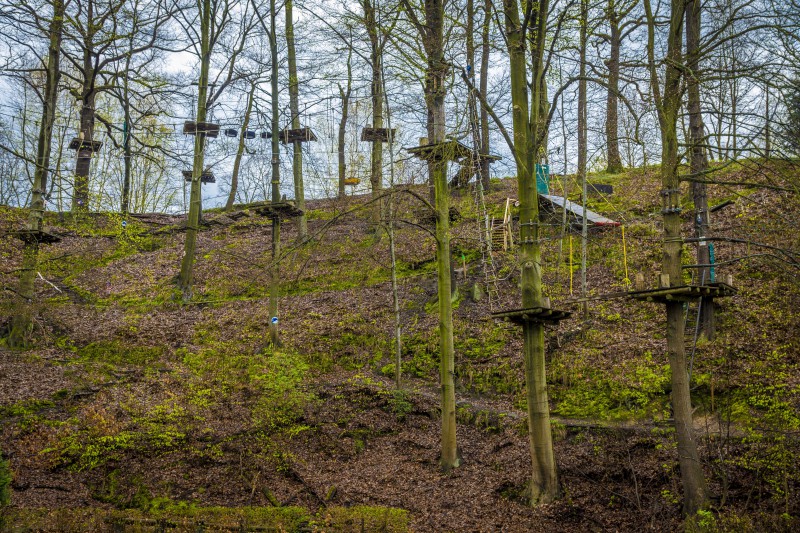 For sure you'll be hungry after 2h of climbing. So bring some food and drinks with you or order from the bistro there. You can sit on the terrace where you have a nice overview of the park. There is also a BBQ which you can use.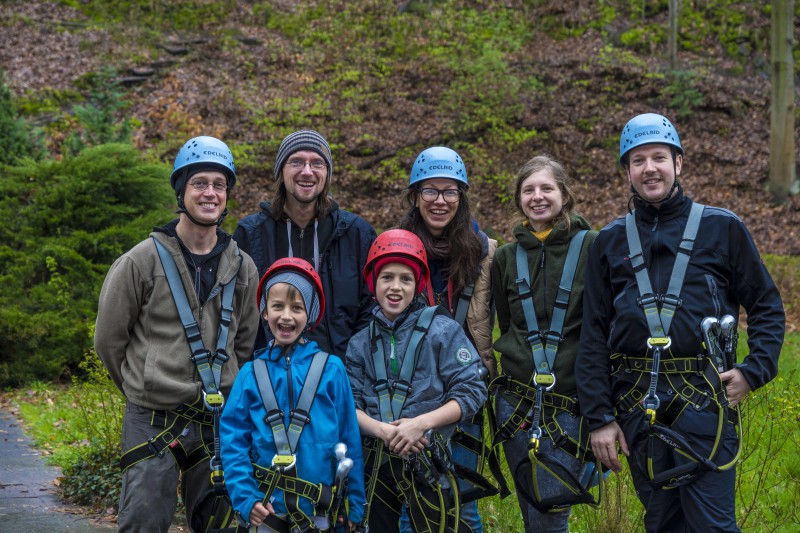 We really had a lot of fun there and can highly recommend it.
Prices:
Adults: weekday 17€ (weekend +2€)
Students: 16€ (weekend +2€)
Children: 13€ (weekend +2€)
Some more pictures of us in action: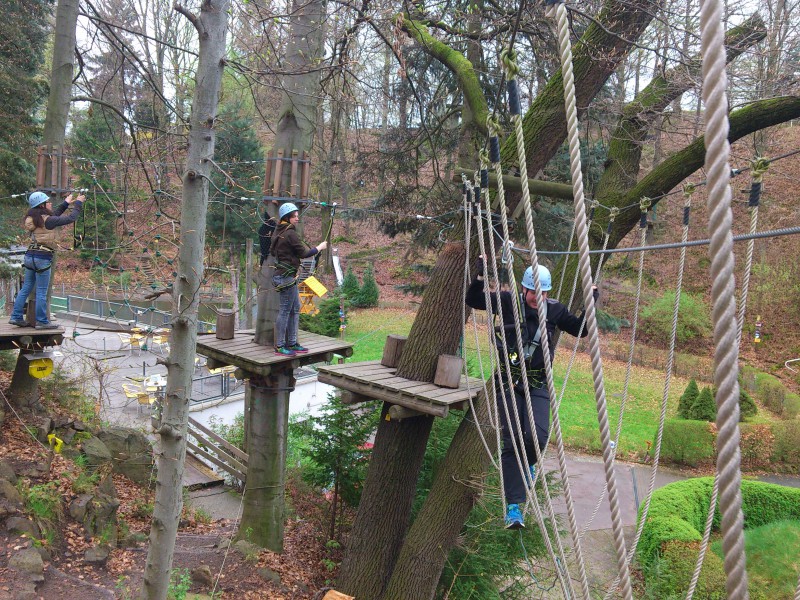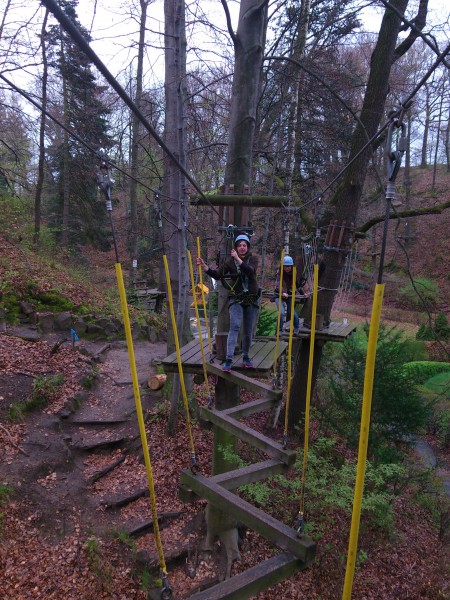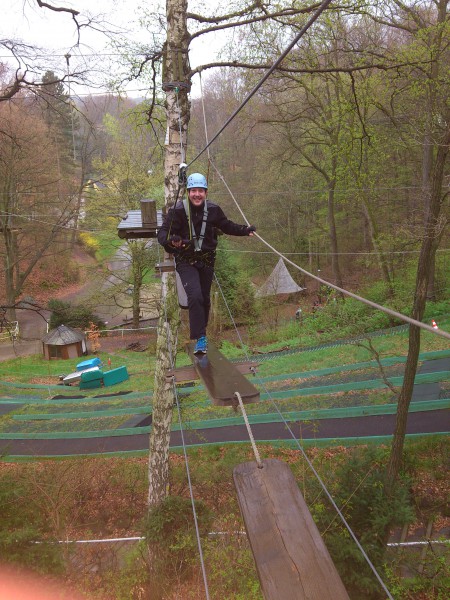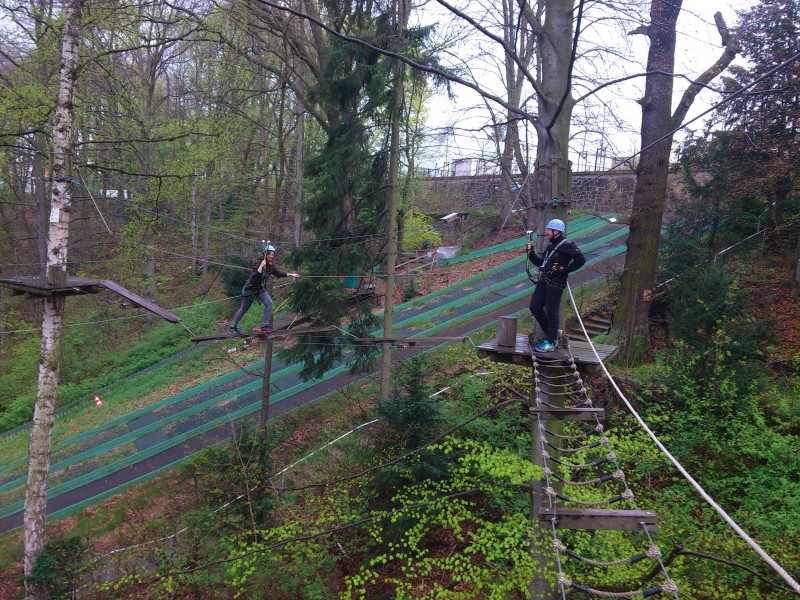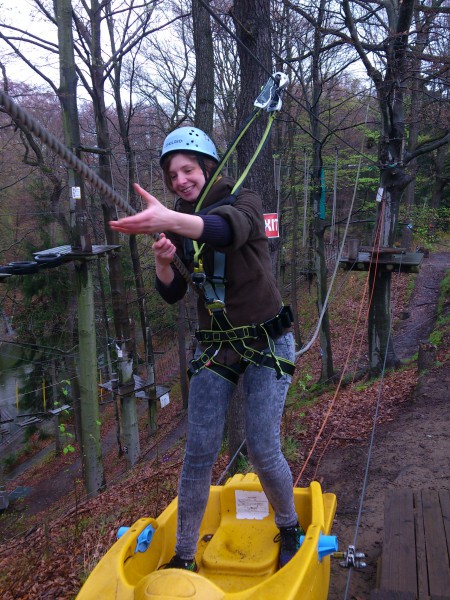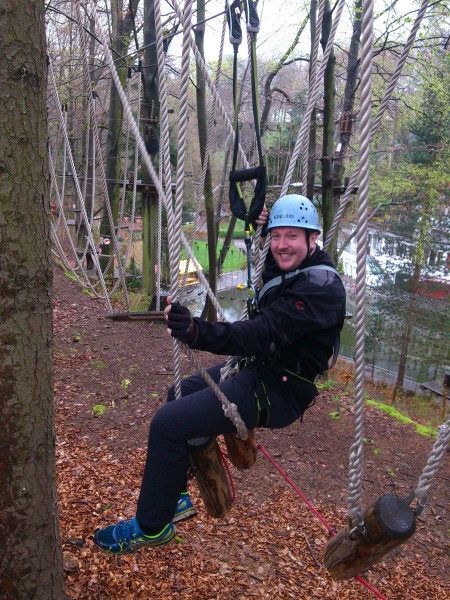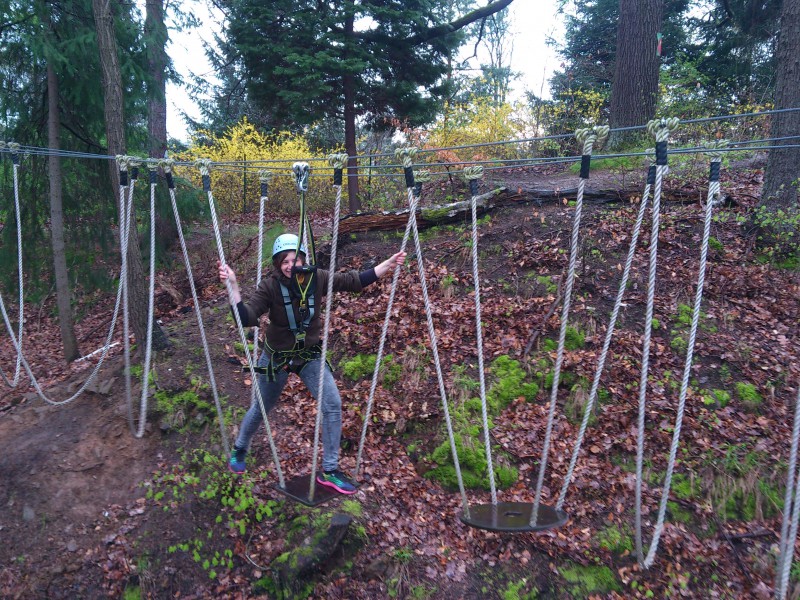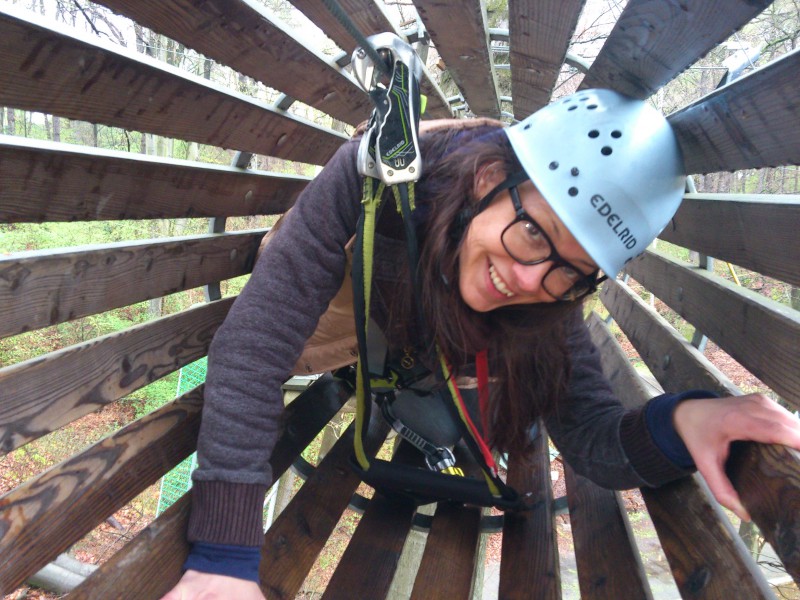 (Quelle: Karte & Smarty http://www.waldseilpark-dresden.de)