(Visit us on Facebook to see the picture in big scale)
Zum Wochenende wollen wir Euch unsere neue Reihe "Dresdens schönste Aussichtspunkte" vorstellen. Wie der Name schon verrät erkunden wir für Euch in den nächsten Wochen Kirchtürme, Anhöhen in der Umgebung (die Ihr super auf einer Fahrradtour erkunden könnt) und Aussichtspunkte. Wir verraten Euch wo sie sind, ob es Eintritt kostet und was Ihr sehen könnt.
During the next few weeks, we'll present you the best lookout points. We'll explore church towers, hills (where you can get to by bike) and other lookout spots. We'll tell you where they are, if it cost you anything and what you can see there.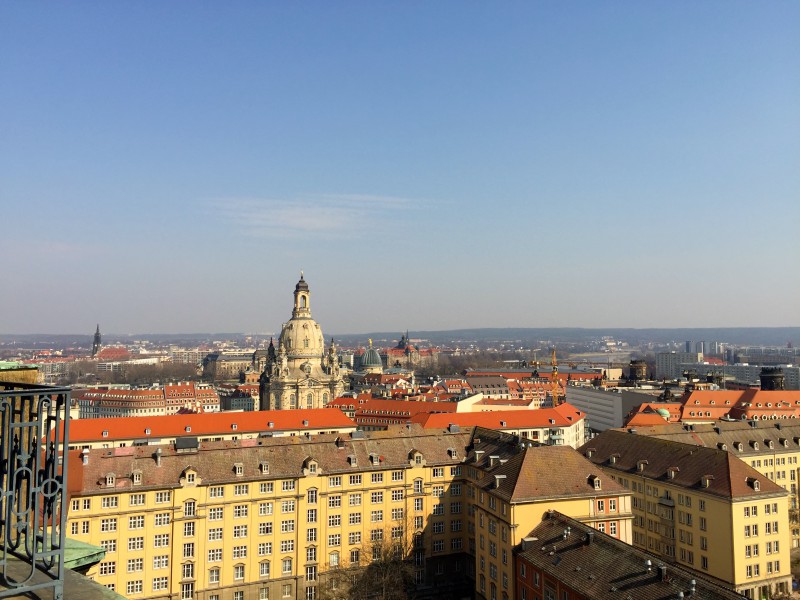 Heute hat es Marc bei schönstem Wetter auf den Turm der Kreuzkirche gezogen!
Die Kirche an sich ist imposant anzusehen und hat im Vergleich zu anderen Kirchen in Dresden einen Großbrand (Kreuzkirchenbrand 1897) als auch den Bombenangriff 1945 überstanden.
Today Marc caught some beautiful sunlight while climbing the tower of the Church of the cross! It's quite impressive to watch. In comparison to other churches, this one has survived a big fire in 1897 and the bombing in 1945.
Bis ganz zur Spitze kommt Ihr nicht – aber immerhin zur Aussichtsplattform in 54m Höhe! Um dahin zu gelangen heißt es für Euch eine ganze Menge Treppen steigen! Aber Eure Mühe wird mit einem herrlichen 360° Rundblick belohnt. Auf halber Strecke kommt Ihr an der Glockenstube vorbei und könnt die 112 Jahre alten Kirchglocken bestaunen. Die Glocken zählen zu den größten Bronzegeläuten Deutschlands.
Unfortunately you can't climb to the top of the tower – but there is a viewing platform in 54m height. To reach it, you have to climb up a lot of stairs! But your effort will be rewarded with a beautiful 360° surround view! While climbing up you'll walk past the belfry which has got on of the biggest peal of bells in Germany.
Hier kurz zu den Öffnungszeiten:
Montag – Freitag 10 – 18 Uhr
Sonnabend         10 – 15 Uhr
Sonntag             10 – 18 Uhr
Preise Turm:
Erwachsene                  3,00 Euro
Schüler/Studenten      2,00 Euro
Kinder bis 14 Jahren   1,00 Euro
Familien                        5,00 Euro