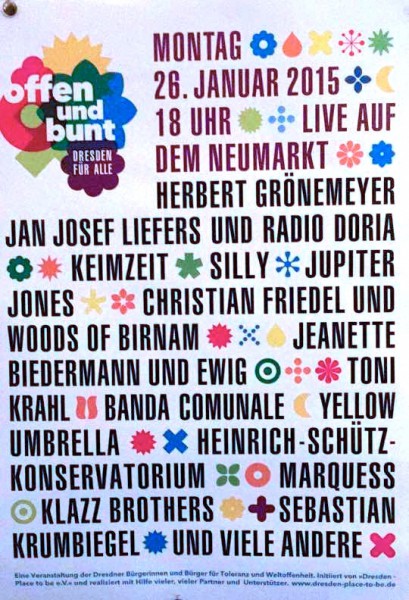 Der Verein "DRESDEN – Place to be! e.V.", unterstützt von einem breiten Bündnis engagierter Dresdner, lädt unter dem Motto "Offen und bunt – Dresden für alle!" am Montag, den 26. Januar 2015, um 18.00 Uhr zu einem großen Fest auf dem Dresdner Neumarkt ein.
An dieser für Dresden historischen Stelle werden bekannte Musiker und Künstler verschiedenster musikalischer Stilrichtungen auftreten. Sie und andere Persönlichkeiten des öffentlichen Lebens werden außerdem in kurzen Statements Dresden so präsentieren, wie sie es sehen und wie sie es in Zukunft auch weiterhin gestalten wollen: Bunt, weltoffen, tolerant – mit großen Ressourcen und einem enormen Potenzial zur Weiterentwicklung.
Der Besuch der Veranstaltung ist eine Möglichkeit für alle, ihrer Entschlossenheit Ausdruck zu verleihen, Dresden nicht der Intoleranz und Stimmungsmache zu überlassen. Wir freuen uns über jeden Besucher. Radikale Hooligans bleiben bitte zu Hause!
---

The non-profit association "DRESDEN – Place to be! e.V." is going to organize an event on Monday, January 26th 2015 at Neumarkt in front of the Frauenkirche. Musicians from several well-known bands and other public characters will present Dresden, as they got to know it: as a colorful and vibrant city with enormous potential for the future. Attending the event, all of us can strongly state our intention not to give way to intolerance and disrespect for human dignity in our town. Everybody is welcome except for radical hooligans!
DRESDEN – Place to be! e.V.
LineUP:
Herbert Grönemeyer; Jan Josef Liefers; Keimzeit; Silly; Jupiter Jones; Christian Frieden; Jeanette Biedermann; Toni Kahl; Banda Communale; Yellow Umbrella; Heinrich-Schütz-Konservatorium; Marquess; Klazz Brothers; Sebastian Krumbiegel