Elli ++ seit fast 3 Jahren dabei ++ "reizende Rezi"
Verrücktestes Erlebnis während meiner Zeit im Lollis?
>> Jede Weihnachtsfeier (!) – Man erfährt viele interessante Dinge über die Menschen mit denen man tagtäglich arbeitet. Jedes Mal herrscht eine ausgelassene, fröhliche Stimmung und am Ende landet man immer in der Neustadt. Für mehr Details spricht man mich am besten direkt an. <<
Das schönste Erlebnis im Lollis?
>> Seit dem Jahr 2014 gebe ich den Gästen im Sommer jeden Dienstag einen Einführungskurs in Deutsch. Einmal dankte mir eine Dame aus Russland mit einem hübschen Matruschka-Anhänger. Es ist toll, wenn man merkt, dass die Gäste Spaß hatten und es einem danken.<<
Das liebe ich am meisten am Lollis?
>> Natürlich die Kollegen, das nette Arbeitsklima und die Gäste. Aber vor allem die kreative Atmosphäre, die von unserem Hostel ausgeht. Durch das Hostel habe ich "USE-IT" (http://www.use-it.travel/home) kennengelernt. Gemeinsam mit Kollegen und diversen anderen Dresdnern arbeiten wir jedes Jahr daran einen werbungs-freien, aktuellen und vor allem frei erhältlichen Stadtplan zu veröffentlichen. Die Karte beinhaltet viele lokale Insider-Tipps, nur so lernt man das wahre Dresden kennen! <<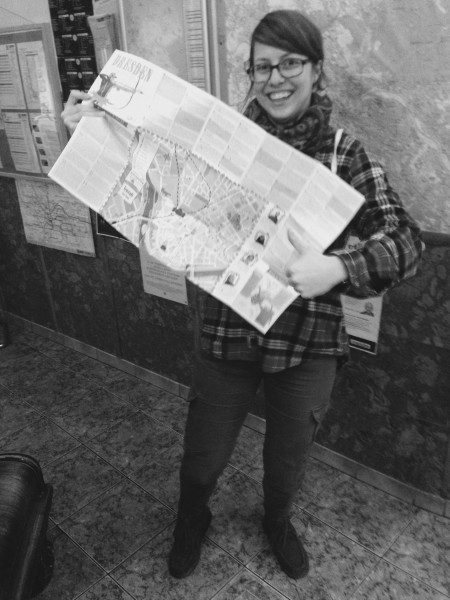 Elli ++ has been with us for almost 3 years ++ "lovely receptionist"
Craziest experience during my time working for Lollis Homestay?
>> Every "Office Christmas Party" with the colleagues is crazy! You get to know the people, who work with you in such a different way. Everytime the atmosphere is so joyful and we always end up somewhere in the "Neustadt". Christmas brings out the best in us.

For more details you better speak to me directly.<<
Most beautiful memory form my time at Lollis?
>> In the summer I teach German to our guests every Tuesday. One time after one of these 1-hour-beginner-courses a russian lady thanked me and gave me a "Matruschka-hanger". It's great to know that guests enjoy the lessons and this was a very kind way to thank me. <<
What I love about Lollis Homestay?
>> Of course the colleagues, the work atmosphere and the guests. But most of all, Lollis is a place of creativity. Through the hostel I got to know "USE-IT" (http://www.use-it.travel/home). Together with some of my colleagues and other locals we publish a commercial free, up to date and cost-free city map every year. It's important to us to pormote local insider-tips, only with these you get to know the real Dresden. <<