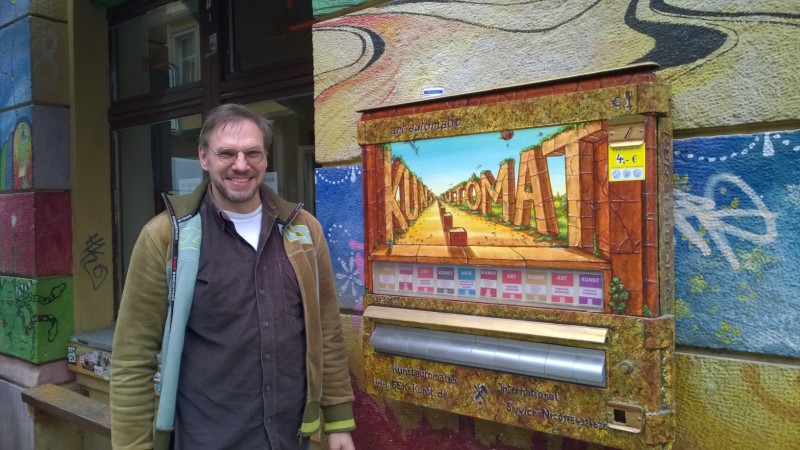 Vielleicht habt Ihr den goldenen Automaten links neben unserer Eingangstür bereits bemerkt. Mit der sinkenden Zahl der Raucher und den damit verbundenen nun "nutzlosen" Automaten ist der Galerist Andreas Petze auf eine besondere Idee gekommen.
Aus den Kunstautomaten kann man kleine Kunstüberraschungen in Form von Bildern, Drucken, Objekten, Zeichnungen aber auch Literatur in Form von Lyrik, Prosa usw. erwerben.
Bei allen Kunstwerken handelt es sich um Einzelstücke oder sind Teil von limitierten Kleinstserien. Dabei entscheidet der Künstler was in die Packung kommt. Ob Malerei, Grafik, Skulptur, Foto oder Gedicht … entscheidend ist, dass es in der Schachtel Platz finden muss.
Klein und originell sind die Kunstbotschaften, die auf dem Weg zur Freundin als Liebesbotschaft, zum Geburtstag als Geschenk, zum Treffen als Mitbringsel oder einfach als Sammelobjekt für sich funktionieren.
In jedem gezogenen Kunstwerk liegt ein Beipackzettel, der einen kleinen Einblick in das Leben und Werk des Künstlers gibt.
So bekommt der Käufer den preiswertesten Zugang zur  Kunst und Literatur.
---
You might have stumbled across the cigarette machine right next to our entrance.
In times of declining smokers, there is a raising number of unused cigarette machines. Now Andreas Petze has a great idea how to use them instead.
You can buy little pieces of art, which fit a cigarette pack. There are pictures, prints, objects or lyric. All pieces are unique or are limited to enclosed series. Each artist decides what comes into the pack.
So if you need a love message for your girl/man, a quick present for a house warming party (perfect for our guest who are looking for shared apartments), or a little something which will always remind you of Dresden or Lollis Homestay Hostel.
With each piece of art, there will also be a little note, which gives you some information about the artist himself.
 Update: Justin was in need of a little unique pressie today! We wish him a great roadtrip