Special Offers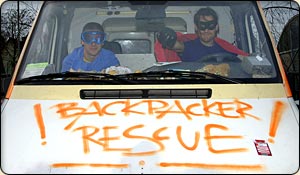 We always aim to offer you something special.
On this page you will find our special offers. If you would like to take advantage of one of them, then just send a request or refer to it in your booking and tell us which offer you would like to avail of.
* These specials are only valid with a booking via our Homepage and you should mention them with your booking! You can only use one special per booking.
Hostel events
Sunday: free vegetarian dinner
Monday: barbecue | We have a hot grill and you bring your steak or cheese or veggie burger! (valid from April to October)
Tuesday: German lesson | Learn the german basics in just one hour! (valid from April to October)
Wednesday: free vegetarian dinner
Thursday: Nightwalk through the bar district for just 5 € per person (valid from April to October)
Our special offers change with the seasons. It can be worth checking this page for current special offers, especially in the low season.