When the bass pulsates in the rhythm of the heart, people dance in the streets of Dresden for humanity and solidarity. Because this city is much more colourful than the brown mishmush of pegidists, racists and old reactionaries sometimes makes us believe. Making this visible and tangible is the declared aim of the Tolerade, a dancing demonstration that is taking place on 4 May...
---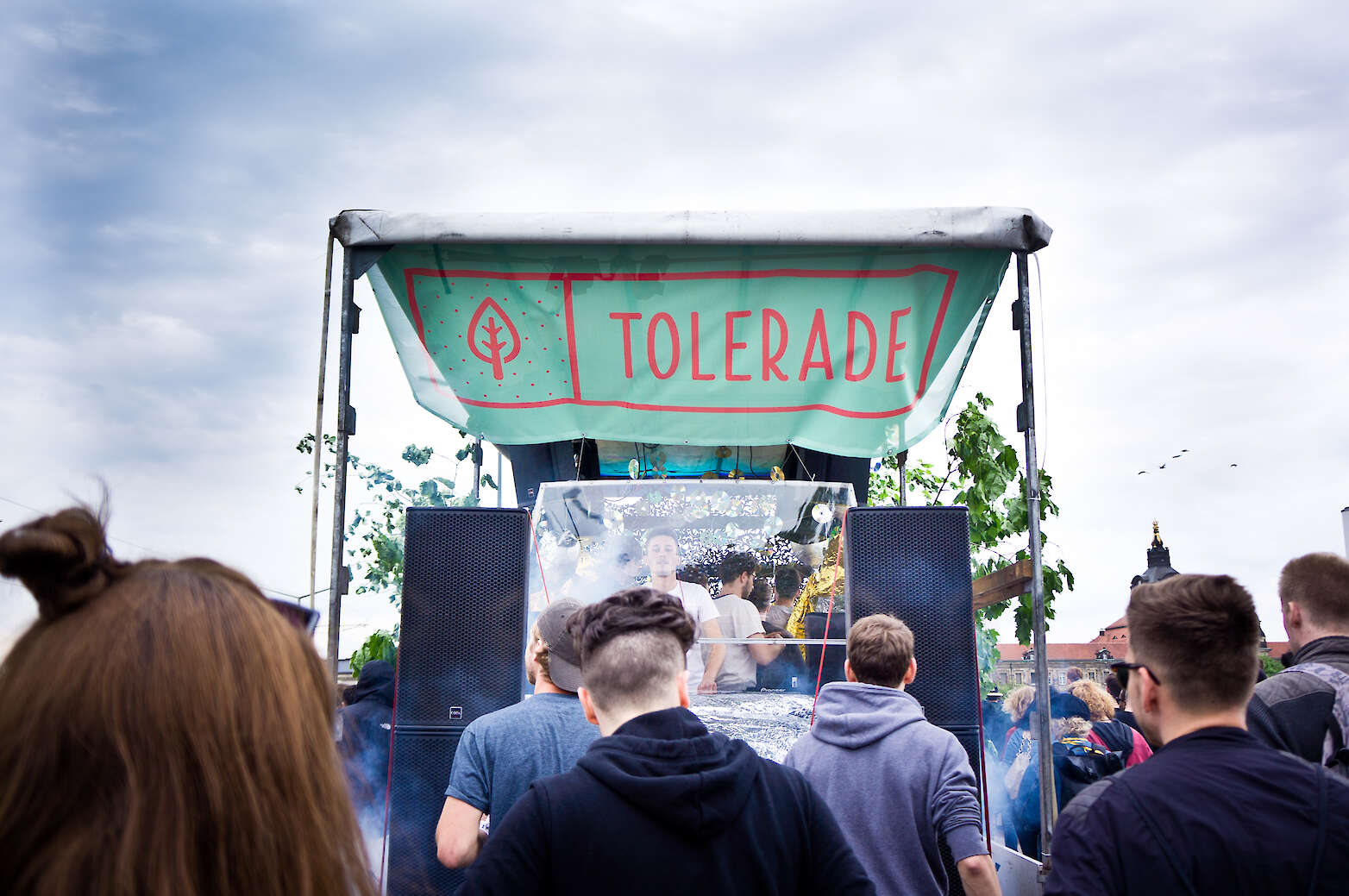 ..at least that's how it can be shortened.
The Tolerade is the child and main project of the Tolerave e.V., a broad action alliance that has been in existence since the end of 2014 and actively strives to help shape an inclusive, tolerant and open society. Rooted in the electronic subculture, their vision is supported by various actors from civil society, club operators, musicians, organisations and social initiatives.
It's about not letting the increasing lurch to the right and the nationalistic closed-door policy of Europe and the country pass unchallenged. It's about designing an alternative draft and taking it onto the streets. And yes, it's also about partying together, because music connects - as hackneyed as this motherhood-statement may sound, it's just as valid.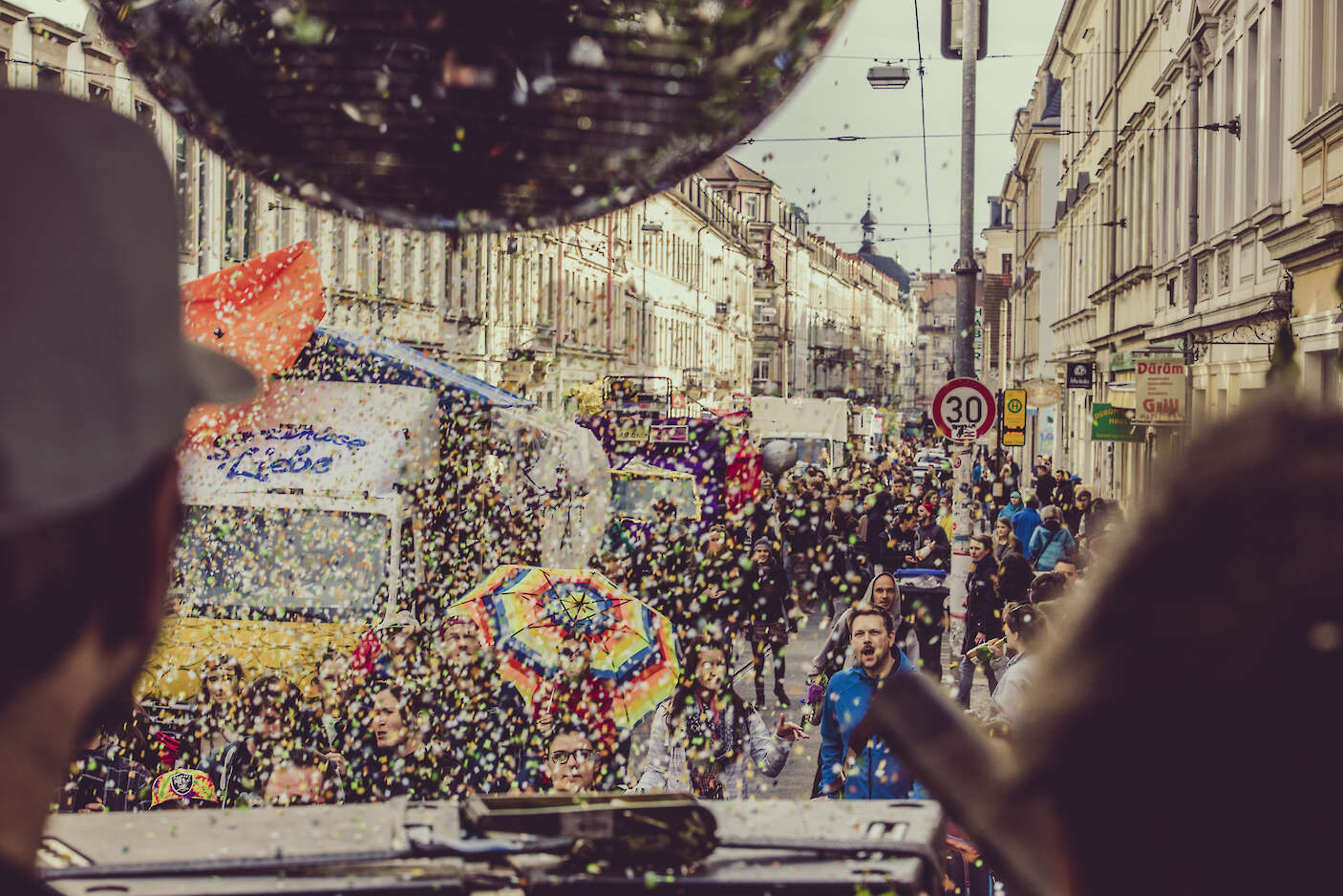 When the dance demonstration enters its fifth round on 4 May, the organisers expect around 8,000 participants that transform the city into a huge dance floor and loudly demonstrate for diversity, tolerance and an open society to the booming sound of the almost 80 different DJ-Crews. Alongside electronic music in a wide variety of styles, different organisations and initiatives will give speeches to draw attention to the current political situation.
So pack your sneakers, come to Dresden, be loud, be colourful and be many and dance down the brown negative spin-offs!
The parade starts at 14:00 from Neustadt railway station and runs across Postplatz and Alaunplatz to its end point in the industrial area. But that's not the end of it - au contraire! Five different clubs invite to a Tolerade-Afterparty, whose revenues serve the financing of the Tolerade and beyond that as donations for initiatives and organizations worth supporting.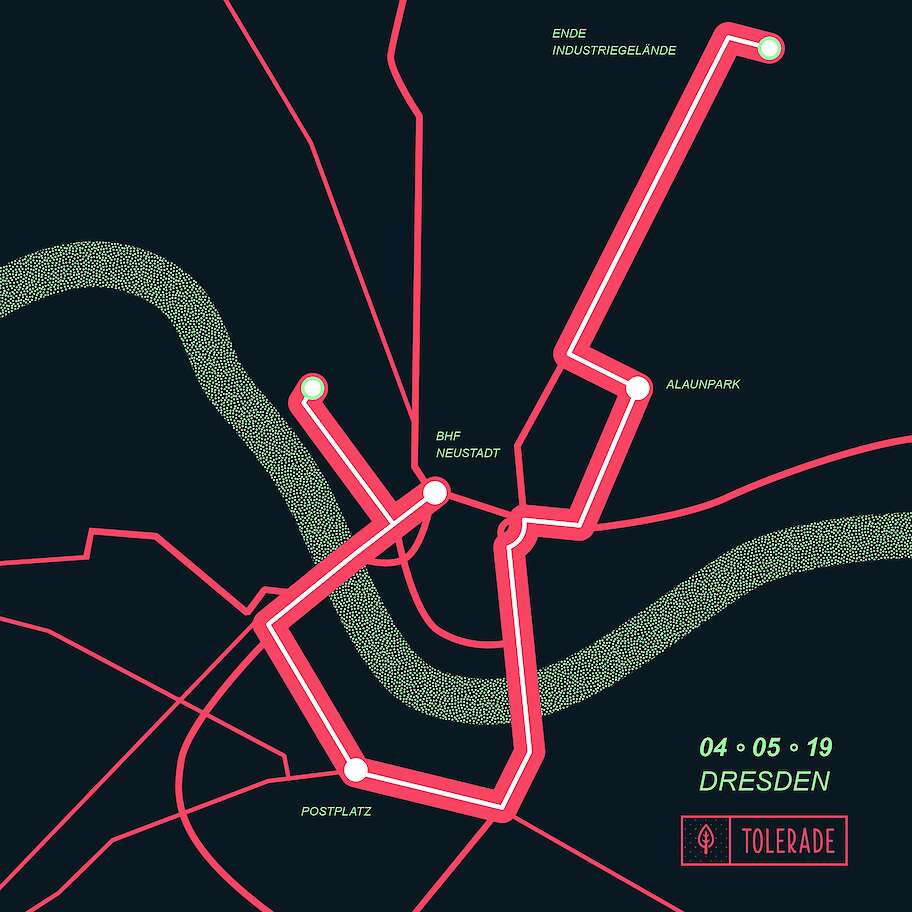 Route and intermediate rallies:
Start: Neustadt railway station, Schlesischer Platz | 14:00
Postplatz | ca. 16:00
Alaunplatz about 18:15
End: Industrial area | approx. 20:00
Afterpartys:
Tolerade Afterparty x Sektor
Tolerade Afterparty x objekt klein a
Tolerade Afterparty x UTM / Tante JU - Indoor
Tolerade Afterparty x TBA
Tolerade Afterparty x Club Paula
05.04.2019, 02:48 @ ulrike
Categories: Dresden · events · politics · news // Tags: Dresden Neustadt · Tolerade