The International Festival for Theatre, Amusement and Music, the Schaubudensommer (Show Booth Summer Festival) starts on the 6. July 2017 again. Although the entrances seems a little high, it is definitely worth to visit this bizzarre, little anarchical and cute festival. The athmosphere feels like beeing on circus 120 years ago. The entrance ticket includes a free concert every day (see below), food stands and other arty events,clowns, donkeys and candyfloss. With the show- tickets you can visit plenty of different theatre shows of your choice inside the festival area (puppet theatre, music, …., see full programme here).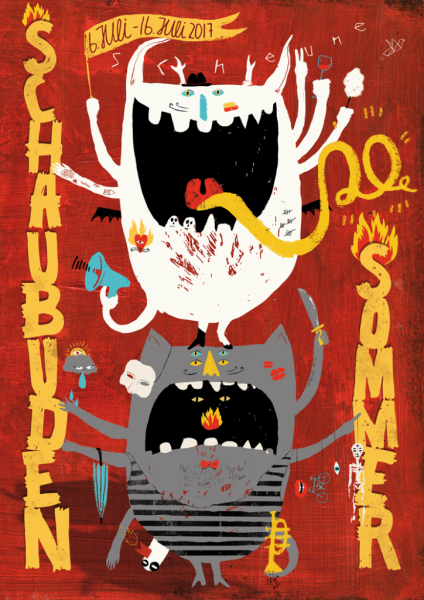 entrances: 
The entrance fee to the festival area is 3 €
tickets for all shows can only be bought at the box office
one show (20-30 minutes) costs 5 €
A Triple-Ticket costs 12 €
some of our fairground attractions cost less, please note the placards
the programme can be bought for 2 €
when?
from the 6th of July to the 16th of July 2017
The first shows start at 7:30 pm
where?
on the yard of the "Scheune"
Alaunstrasse 36-40, 01099 Dresden
Festival-Bands Every night at midnight! 
Thursday, 06.07. // Kërkim | Klezmer / Folk (IT)
Friday, 07.07. // Paula & Karol | Folk (PL)
Saturday, 08.07. // The Pigs + White Wine | Folk / Country (AUS/D)
Sunday, 09.07. // Falakumbe | Cumbia (SWE)
Monday, 10.07. // Analog Bass Camp | Dub / Drum 'n' Bass (D)
Tuesday, 11.07. // Karikatura | World Beat (USA )
Wednesday, 12.07. // Velo de Oza | Global Beat (COL)
Thursday, 13.07. // Chapter 5 + Sons of Settlers | Indie Rock (D/ZA)
Friday, 14.07. // Mother Princess | Jazz/Elektronika (D)
Saturday, 15.07. // Django S | Brass/Ska (D)
Sunday, 16.07. // Yusuf Sahilli + Band | Folk/Pop (D/SYR)