An update on the operation at Lolli's Homestay Hostel: We are all confronted with an unprecedented situation and also had to change our regular business to a "low flame operation". 10 days ago our hostel family met in a closed session and together we had to face a hard reality.
---
Most of the employees were sent on short-time work solution by common consensus (which is financially supported by the state), a few had to leave us completely. This particularly affected those who would have quit working for us anyway due to an increased study workload or final theses. For others, we hope to be able to rehire them as soon as possible. For our newest two employees, it must have felt strange to be "on leave" right after completing their regular training at the reception for the new season. Who knows when or if they can start their first regular service. And also our hostel father Martin had to change his job now: From the office, he holds the position in the hostel, cleans the rooms for the few remaining guests or takes care of the big pile of new paperwork that comes along with the short-time work for example.
At least we could all see each other again together, even if we tried not to cry or hug each other. At least we were able to take a farewell photo that was not appropriate for the distance ;)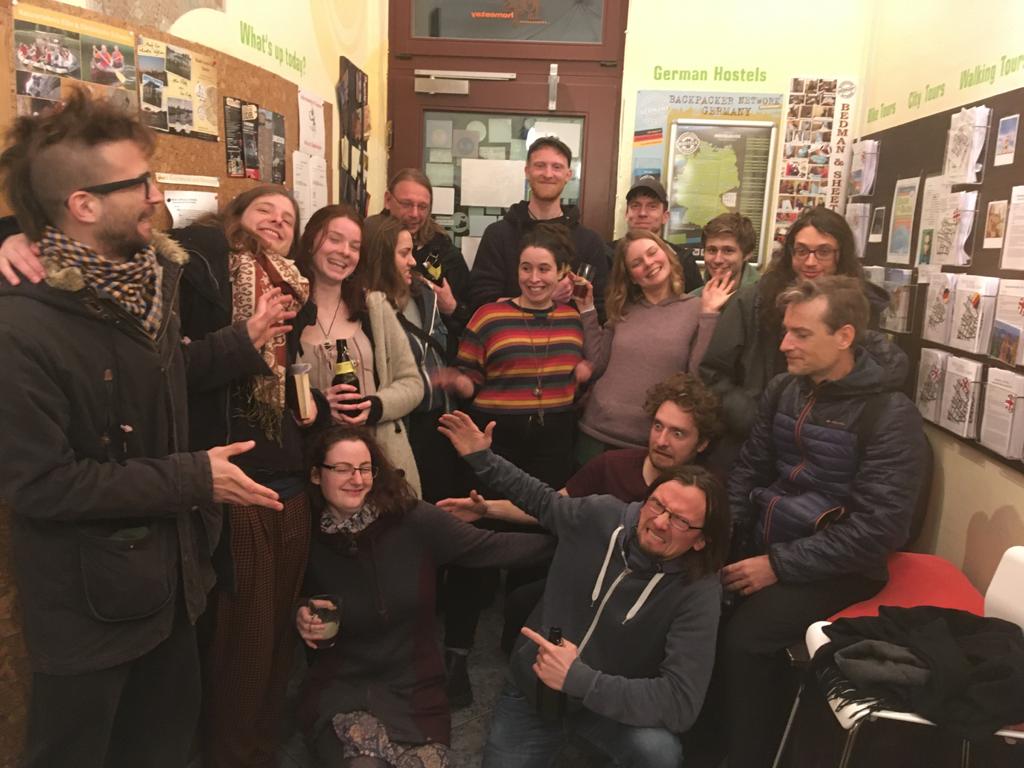 The first shock was able to settle down and with a little distance we can finally write about it :)
The pandemic has hit the international hostel industry pretty hard. Many travel routes are no longer passable, flights have been suspended until further notice. We have had to overcome many challenges during our almost 20 years of hostel existence, but this situation is also pushing us to the limit.
We had to stop our regular operations, as the majority of bookings have of course been cancelled bit by bit. In view of the extraordinary situation, of course, rightly so.
We ourselves have always been independent and do not belong to a chain, so we are financially on our own. In small businesses, it is not possible to build up larger reserves, as income is usually immediately reinvested in the business (maintenance costs, rent, wage payments or running costs such as GEMA fees- typical fee in Germany where you need to pay for the music you play from the internet for example). Likewise, our overnight accommodation business has always been geared towards younger and therefore lower-income guests. Our profit margins are therefore lower than in the hotel business, for example.
After we have used the winter, as usual in the off-season, to renovate our rooms or to invest extra working hours for the basic and spring cleaning or for the training of new employees, there is now, as with many others in the hospitality industry, no larger financial cushion left. The running costs are also nibbling away at the already much lower income in the off-season, and of course they are doing it right now in an unprecedented way. Thinking about an expensive credit, especially when nobody knows when or if and how our target groups will travel again in the future, is somehow not a solution either.
Most bookings could be cancelled by us or by our guests in time and free of charge. The long-awaited revenue surge at the beginning of the main season at the beginning of spring is not happening for the time being. And nobody knows how long our business can still run on low flame. Even if we are allowed to reopen regularly at some point, it is likely that after a longer state of emergency the travel behaviour of tourists will change or second Covid 19 eruption waves will make the flow of tourists unpredictable. Nothing seems safe anymore.
What is certain, however, and now we come back to something that can be predicted very well now, is that for us as employees of the Lollis Homestay Hostel, the last word has not yet been spoken. We still keep in touch digitally and take care of each other as good as we can from the sofa. We want to be together again as a Lollis family as soon as possible. We miss each other... and our guests... and the hostel... and the early coffee... and the conversation... and everything!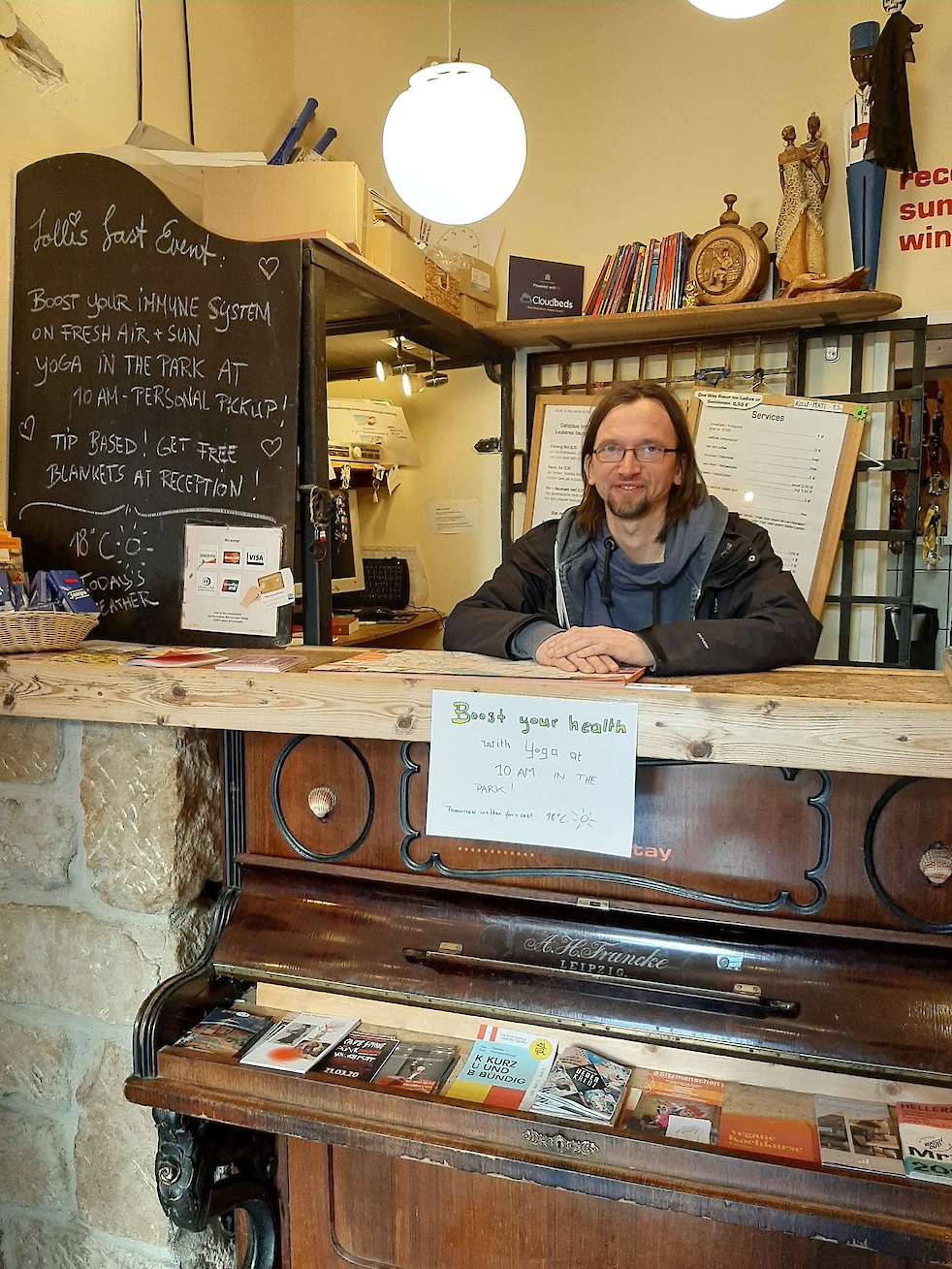 And a big thank you also to the hostel father Martin, our hostel manager, who holds the position for us at Lollis Homestay Hostel and who gently and considerately involved us in the events.
You can also support us directly with your signature in these online-petitions:
https://www.openpetition.de/petition/online/sofortige-gesetzliche-aussetzung-von-gewerbemieten-und-dauerschuldverhaeltnissen
https://www.change.org/p/covid-19-finanzielle-soforthilfe-f%C3%BCr-gastronomien-und-hotels
We will keep you informed about Lollis Homestay Hostel. We wish everyone lots of courage and strength! Be solidary!
Greetings and love, Jule
29.03.2020, 17:19 @ Juliane
Categories: Dresden · our guests · hostel news · travel · news // Tags: business in the pandemic · Covid 19 Special Operation Hostels · Lollis Homestay Hostel · Hostels in Dresden Germany · Opening Hours Hostels Dresden · Accommodation in Dresden during Corona · Petition against Shop Death · Trade Dresden Neustadt Corona · Tourism in Dresden during Corona · News Lollis Homestay Hostel Corona Covid19