A nice day trip from our hostel leads with the S-Bahn or by Bus to the winter sports centre Altenberg. The excursion is very worthwhile if you want to spend a few days in Dresden and its surroundings. The journey takes about 1 hour and 10 minutes. Around Altenberg you can do wonderful downhill ski or longer tours.
---
The dark season has long since begun, the snow is still to come, but you never know ... Since toboggan slopes in Dresden are rather smaller and it is helpful and good to bring your winter bacon into flushes, we would like to introduce you to the Erzgebirge, which is a nice destination in our vicinity.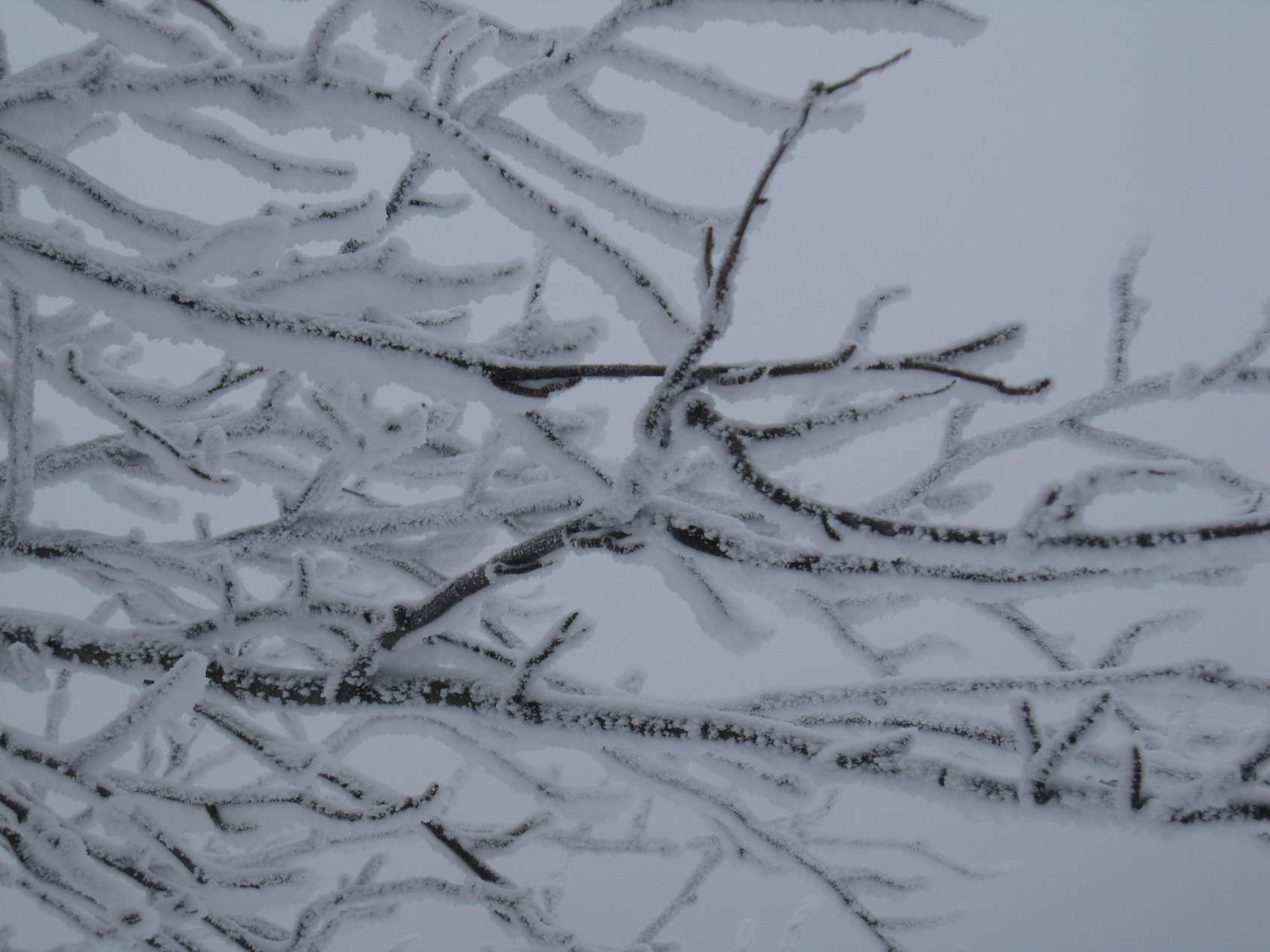 When's the first snow? Photo: Martin Grellmann
The Erzgebirge is a popular hiking area and at higher altitudes you can also practice winter sports. The low mountain range lies on the German-Czech border, only an hour's drive from Dresden. In the Erzgebirge there was a lot of mining in the Middle Ages (the town of Freiberg should be mentioned here, where you can descend directly into such an open-cast mine), so a versatile man-made cultural landscape arose there. In the higher areas on the German side there is also the nature park Erzgebirge/ Vogtland which is one of the largest of its kind in the whole of Germany. The highest mountain here is the Fichtelberg with 1215 meters (highest mountain in Saxony) near the health resort Oberwiesenthal (D) / Klínovec (CZ), the most snow-sure ski area in Saxony. But this is quite far away from Dresden.
From Dresden we therefore recommend the smaller, but not so crowded ski areas around the city of Altenberg. Near here is the Kahleberg on the Czech side, which is the highest mountain in the Erzgebirge. Here there are dry heaths, raised bogs, rare mountain and wet meadows and many other small state-protected nature reserves, ideal for (winter) hiking.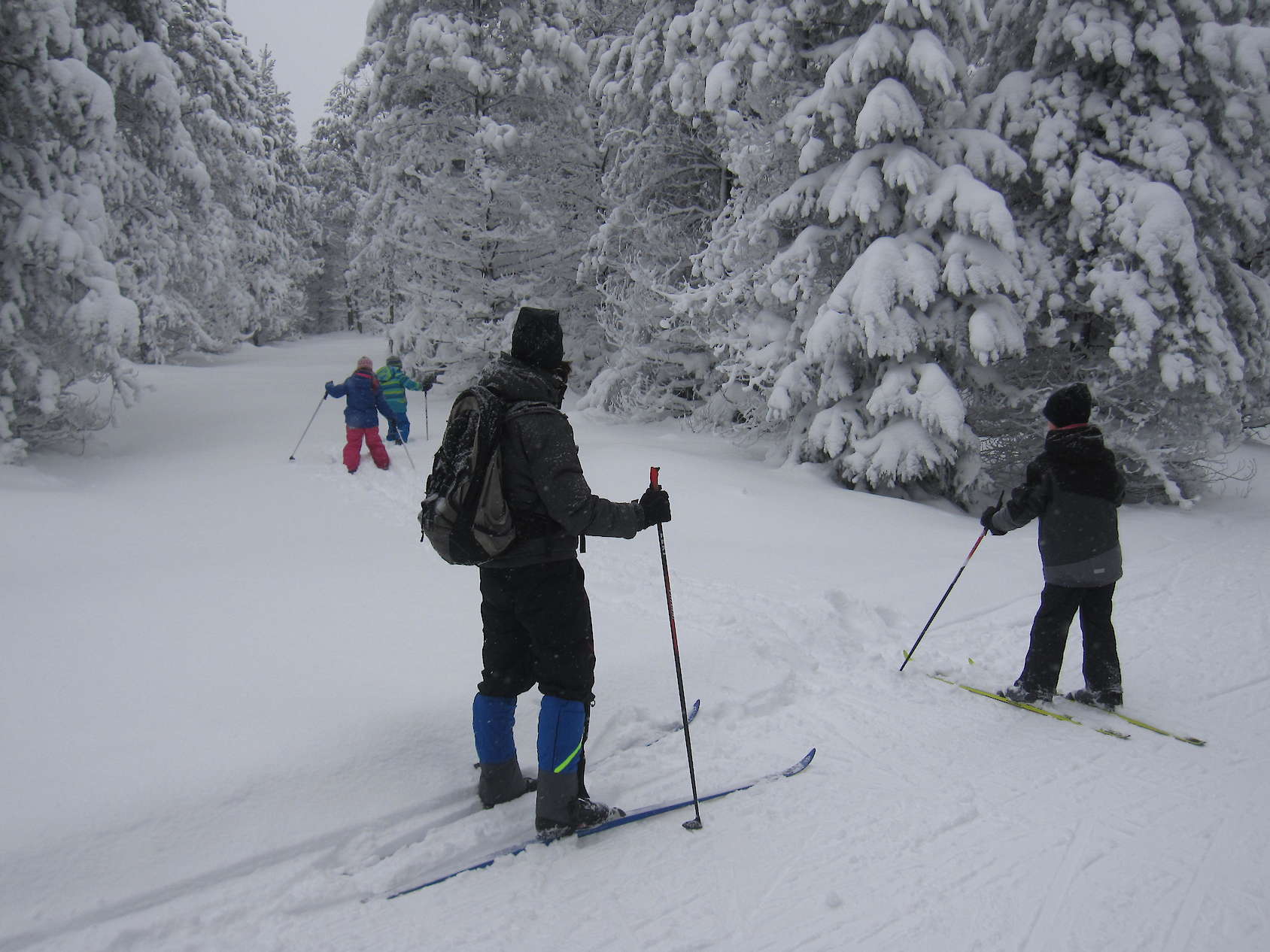 Anyone can do cross-country skiing! Photo: Martin Grellmann
If there is enough snow, you can ski the more than 70 km of prepared cross-country ski trails around Altenberg. Other beautiful areas in and around Altenberg also invite you to go downhill skiing, snowboarding or sledging.
Altenberg also has a bobsleigh run of 1413 metres, which is one of the most demanding of its kind in Germany and on which World Cups and World or European Championships take place on a regular basis. Ice tubing is also offered on this track (helmet and tyres on site), so you don't have to be a world champion to race down there (open dates can be seen on the website, otherwise you should register early).
This is also possible in summer, but then in the bobsleigh and on wheels with a professional bobber (at 90 km/h at 3 G). From 08.12. on Fridays and Saturdays this is also possible in winter (but then at 100 km/h here you have to dig a little deeper into your pocket and also here you have to register in advance).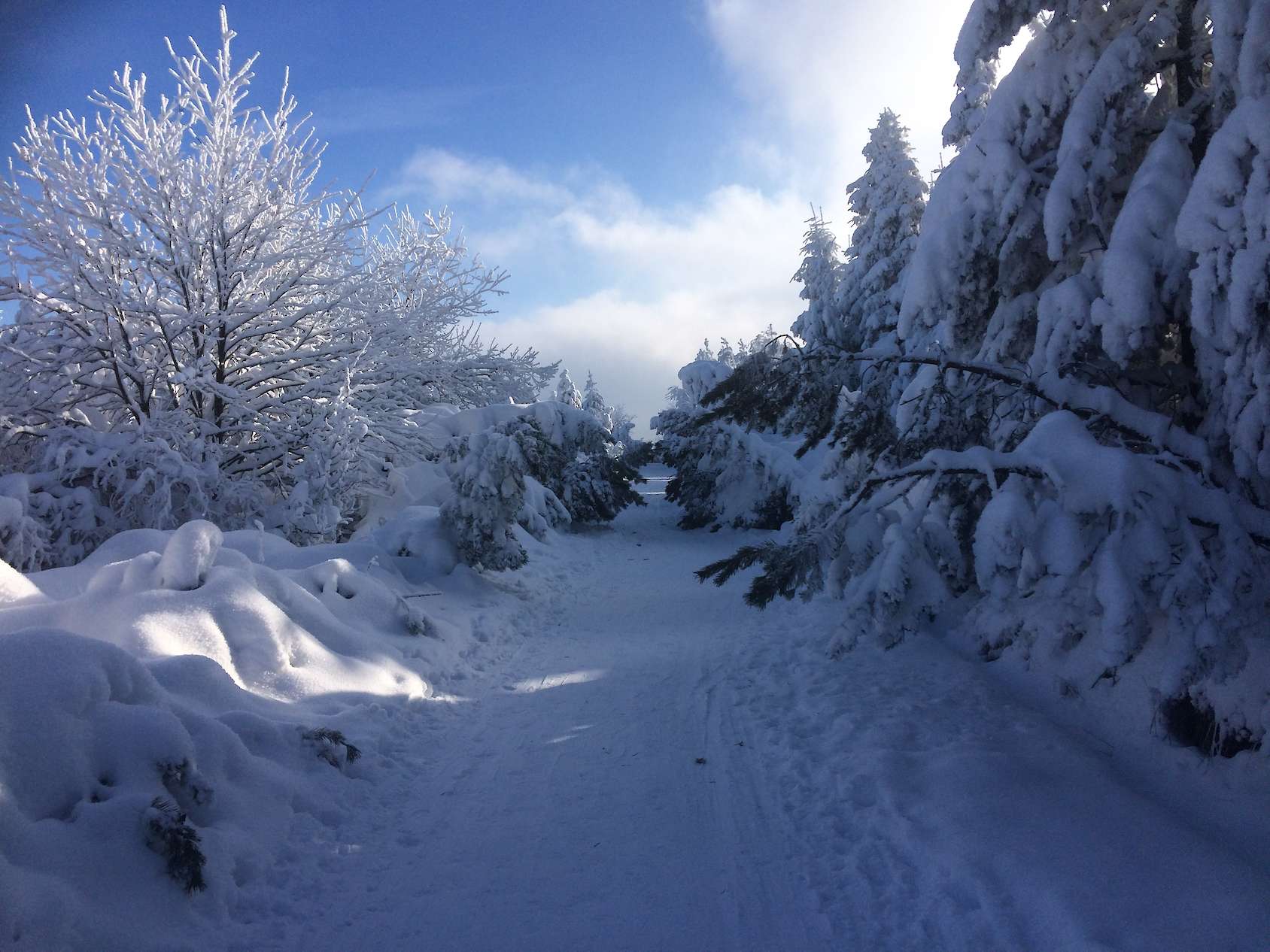 Beautiful winter landscape near Altenberg. Source: Pixabay
You can check the weather here directly on the webcam in Rehefeld!
Approach from Dresden
from the main railway station with bus line 360 direction Teplice hlavni nadrazi (railway station) in the Czech Republic to Altenberg (takes about an hour) ... can become narrow, if you have a lot of your own luggage with you, in case of doubt you won't fit into the bus anymore.
from Neustädter Bahnhof or Hauptbahnhof with the S1 to Heidenau, then change to the narrow-gauge railway RB 73917 direction Altenberg through the beautiful Müglitztal (exit possible in Geising or Altenberg, duration approx. 1 hour and 10 minutes) ... this option is particularly suitable if you want to bring your own ski equipment and do not have a car.
from Dresden by car about 50 minutes via the A 17, then via the S 175 via Lauenstein, ... (see signs)
Ski rental
A good overview of shops where you can rent skis, sledges and accessories can be found here.
Ski lift & magic carpet in Altenberg
T-bar lift 450 m, 500 m, 530 m
Easy to medium slope
Difference in altitude 79 m
Opening hours in good snow conditions
Mon - Wed: 10:00 - 20:00 o'clock
Thu - fr: 10:00 - 22:00 o'clock
Sat: 9:00 - 22:00 o'clock
Sun: 9:00 - 18:00 o'clock
Prices adults / children
Day ticket until 18 o'clock 17 Euro / 13 Euro
Four-hour ticket 13 Euro / 10 Euro
3 trips 3 Euro / 2 Euro
14 trips 8 Euro / 6 Euro
28 trips 13 Euro / -
Rent of skis, sledges, bobsleds, boots and snowboards possible.
Ski lifts & natural toboggan run in Rehefeld-Zaunhaus
There is a very nice toboggan run and two ski runs through the forest. However, when the weather is good, it can get a bit crowded on weekends.
Double chairlift 800 m, 1200 m, medium slope
Height difference 130 m
Skidooing for children and adults and snowtubing.
Snow telephone 035057/ 51274
www.winterwelt-rehefeld.de
Opening hours:
Mon - Thu: 11:00 - 15:00 o'clock
Fri: 11:00 - 17:00 o'clock
Sat:, Sun, Holiday, Vacation: 9:00 - 17:00 o'clock
open daily during the holidays
Prices Adults / Reduced
Season ticket 150 Euro / 100 Euro
Day ticket 20 Euro / 15 Euro
4-hour ticket 13 Euro / 10 Euro
2-hour ticket 9 Euro / 6 Euro
Single trip 1,50 Euro / 1 Euro
Natural toboggan run 1100 m long
Toboggan rental at the valley station of the chairlift for 8 Euro/day.
Ski lift Geising
Geising offers optimal conditions especially for beginners. There are also very nice hiking routes from there.
2 drag lifts 550 m and 610 m piste, easy to medium
Phone 035056 / 32364
www.skilifte-geising.de
Opening hours in good snow conditions
Mon - Thu: 14:00 - 20:00 o'clock
Fri: 10:00 - 20:00 o'clock
Sat: 9:00 - 20:00 o'clock
Sun: 9:00 - 18:00 o'clock
Loan station available: Snowboards, long and downhill skis and boots.
Ski lift on the Rotterhang in Schellerhau
T-bar
Easy to medium slope
www.skilift-rotterhang.de
Opening hours in good snow conditions
Mon - Sun: 9:30 - 20:00 o'clock
Prices adults / children
Day ticket (until 16.30) 8 Euro / 5 Euro
Half day ticket (until 13.00 or 13.00 - 16.30) 6 Euro / 3,50 Euro
Evening rate from 16.30 - 20.00 o'clock per hour 3 Euro / 2 Euro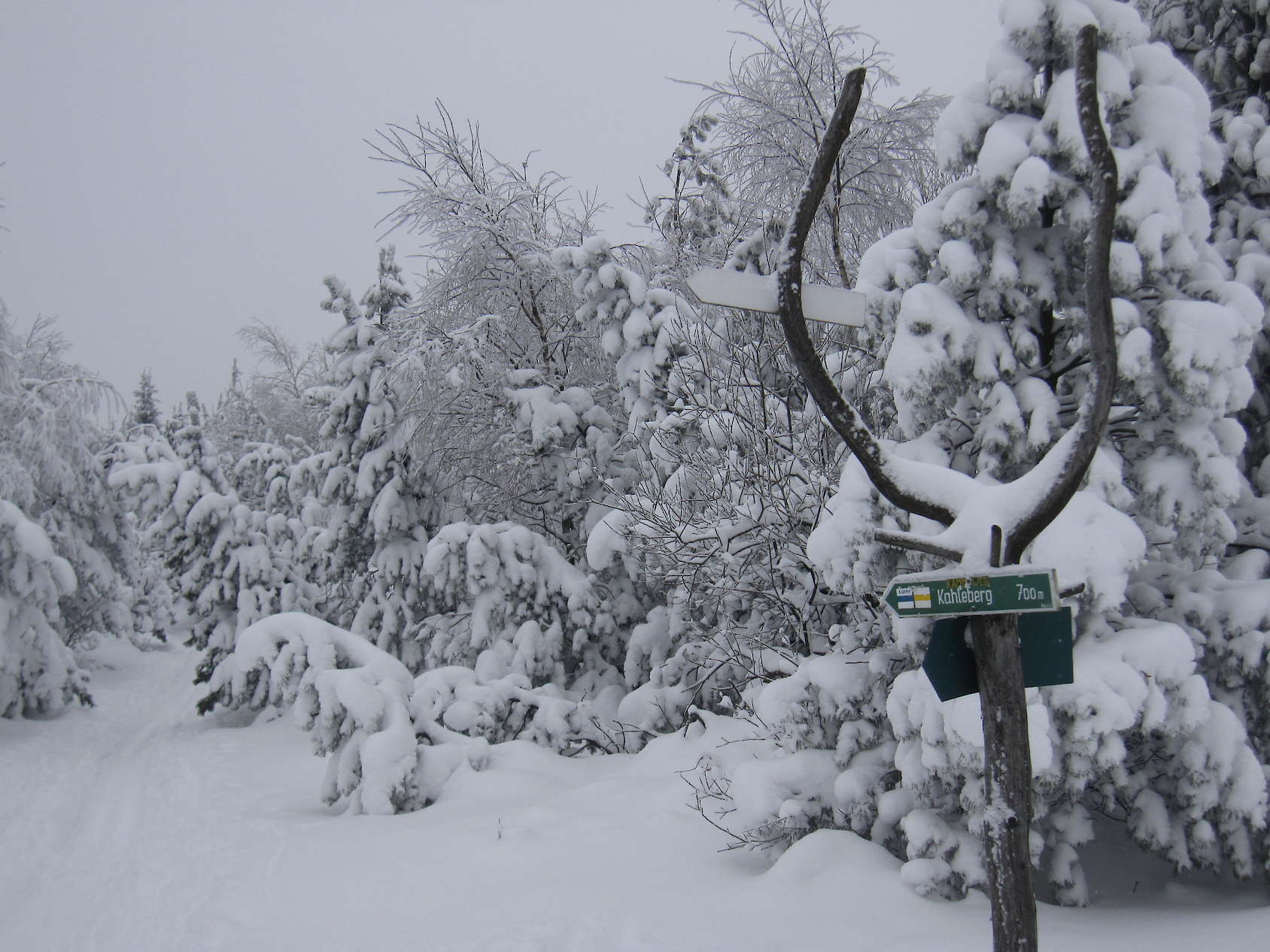 Photo: Martin Grellmann
Translated with www.DeepL.com/Translator
09.12.2018, 15:47 @ Jule and Martin
Categories: activities · Dresden · news · surroundings · things to do · tips // Tags: dresdenhostel · hostelindresden · lollishomestaydresden · lollis homestay · ski · East Germany · hostellife · hostelblog · blog · winterindresden · dresden travel · germanhostels