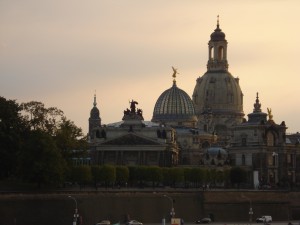 2010 will be a great year for Dresden again, especially for all aficionados of museums:
March 6th (probably):
Opening of the Turkish Chamber: The Royal Palace is restaurated and offers again after 60 years the Turkish Chamber. You can expect to see over 600 oriental exhibits on about 750m². "The main attractions will be the sumptuous Ottoman state tents and the extensive range of parade tack displayed on life-sized Arab stallions carved especially for the exhibition. In conjunction with chain mail, helmets, flags, weapons and robes, these textile treasures depict the fascination of the Saxon electors with Ottoman art and culture. Dresden's collection of Ottoman and Oriental-style art is one of the biggest in Germany. Its largest piece alone – a 20-metre-long, eight-metre-wide and six-metre-high Ottoman state tent with magnificent appliqués in silk and gold leather – was extensively restored at a cost of over €3.6 million." (www.skd-dresden.de)
June 2010:
Reopening of the Albertinums: Since the big flood in 2002 the museum was closed and parts of the exhibition were displayed in other museums. The restauration and construction of the new foyer are supposed to finish now and therewith all the fantastic modern and contemporary master pieces of art from the 19th century to today will be hosted again in the Albertinum on the Brühlsche Terrasse.
End of 2010:
Opening of Historical Military Museum of the German Armed Forces