To the beach! To Thailand or to the Caribbean Islands! Traveling like this is always tempting for us, especially in winter, and if you can afford it and have time, you can quickly book a cheap flight into the warmth. Ahhhhh sun... after all the winter months we have earned that too! But you don't always have to go far to do something good for yourself. Today I take you by the hand and show you what you can do in my hometown in the dark season. I'll show you places to keep you warm and get you through the rest of the winter.
---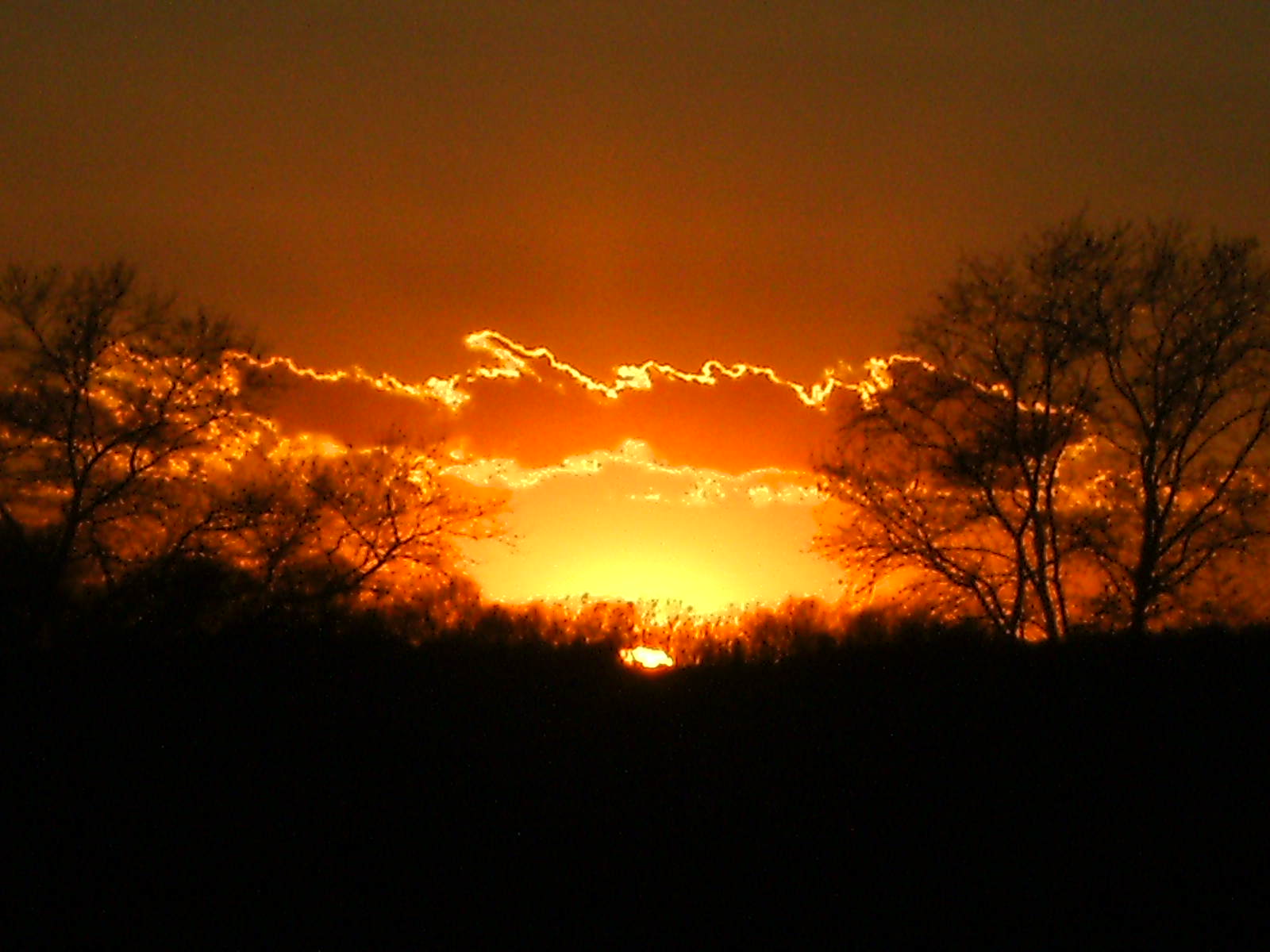 © Juliane Schäfer/ Sunrise in Greece
To the beach! To Thailand or to the Caribbean Islands! Traveling like this is always tempting for us, especially in winter, and if you can afford it and have time, you can quickly book a cheap flight into the warmth. Ahhhhh sun... after all the winter months we have earned that too!
But now the climate change comes between us, flying is not as cool as it was in the 90's. The worldwide redistribution of resources and the conflicts that go along with it also makes us no longer chill as unscrupulously or even safely as it used to be. That's why domestic journeys are very much on the rise, you return to your roots, to the things that were always just around the corner, but that you never wanted, because it wasn't so exotic or adventurous.
But times change and that's a good thing. Why should we only benefit from such a dull tourist beach when we can also experience other great things that are even cheaper to have? Or for which you don't have to take two weeks vacation? Explore your own city! Beauty also lives in the little things! Everything is just a matter of attitude!
Today I take you by the hand and show you what you can do in my hometown in the dark season. I'll show you my favourite places to warm up, where you won't only be warm in your heart. Maybe they meet there!
BOTANICAL GARDEN at the Great Garden

As a child I was regularly brought here by my mom, who is an excellent plant expert. So she could always tell me wondrous stories about all kinds of plants: There are plants that smell of chocolate (Cosmos atrosanguineus), cure diseases or eat animals or even are half animals themselves (or was it the other way around?) or grow old like Methuselah or get you high. They are the most productive solar power plants ever and work with the process of photosynthesis using quantum mechanics (plants have been using them for millions of years). They can speak and feel and form networks that are larger than our networks. They purify and filter water, earth or air better than any man-made machine and can even resist fire or vacuum. Those who enter the world of plants can learn a lot and can no longer get out of amazement.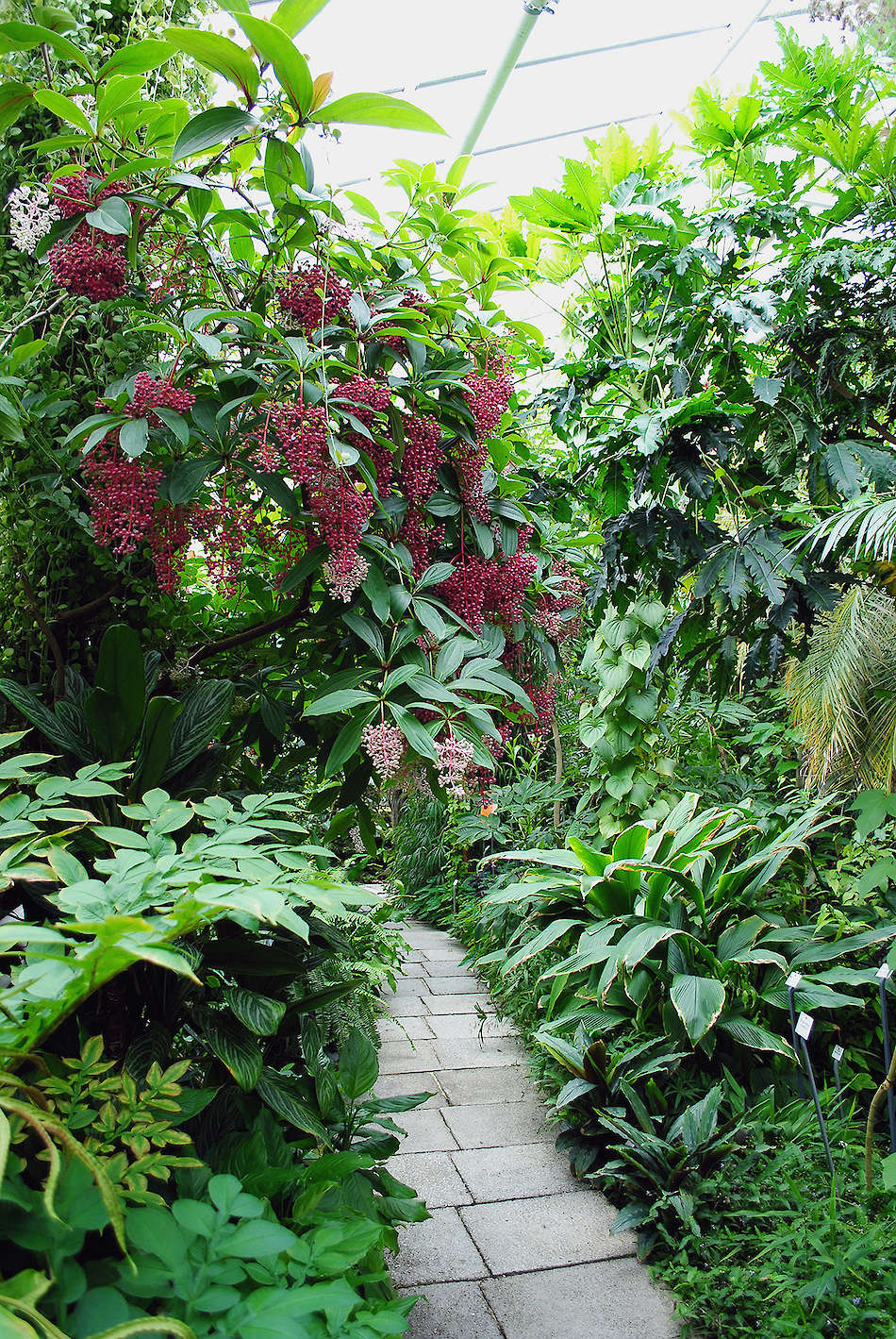 © Botanical Garden Dresden/ Greenhouse
In the Botanical Garden (free of charge, by the way) about 10,000 plant species grow on a 3.25 ha site. It is not only in summer that you can get to know numerous plants (including endangered native species). There are also two greenhouses heated to tropical temperatures. The outside area invites you to stroll and explore. If you are looking for some time out and relaxation, this is the best place to be and at the same time warm up in one of the tropical houses. From a psychological point of view, the green of the plants also promotes your helpfulness, tolerance, stamina and satisfaction. So, let's go!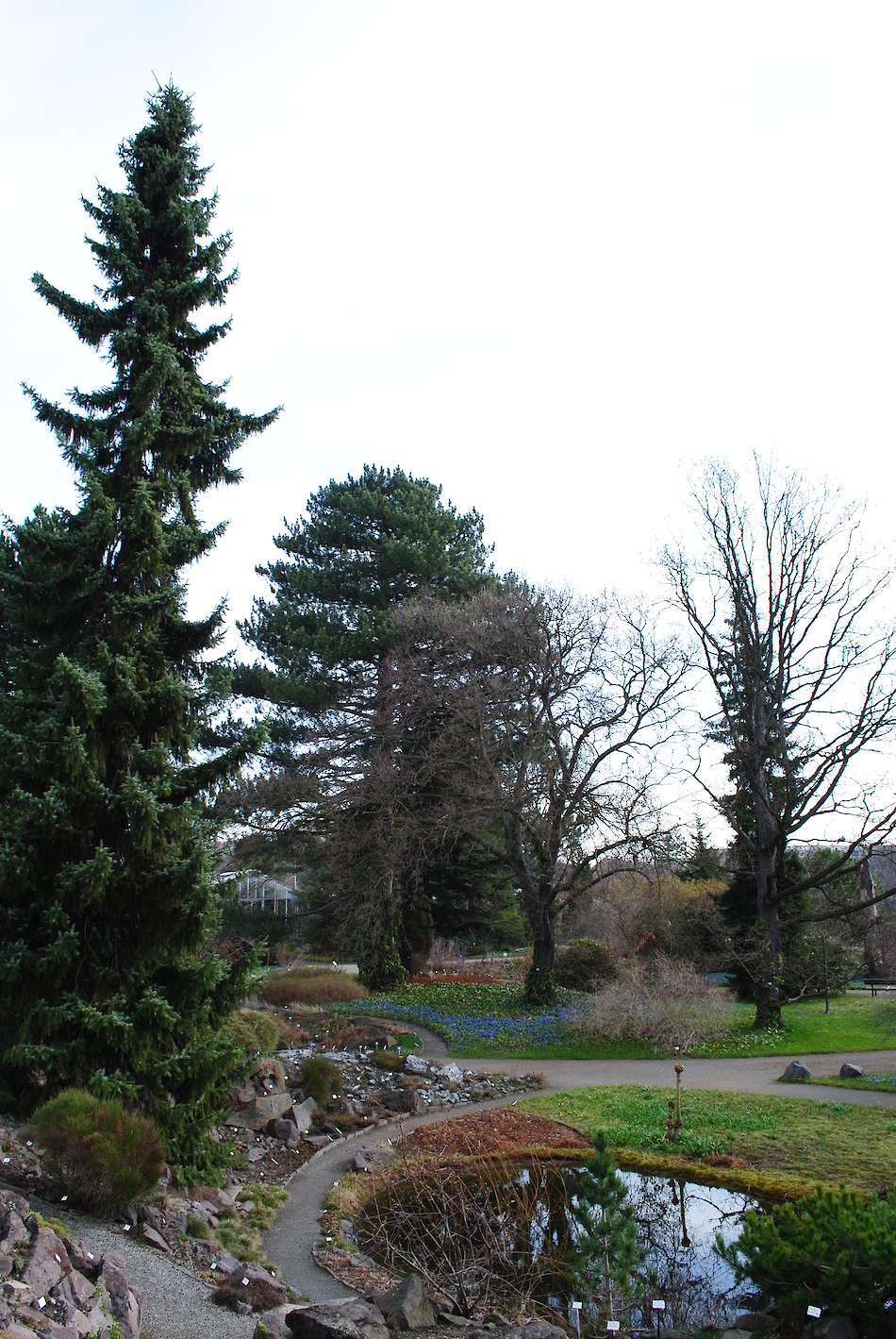 © Botanical garden / outdoor area in winter time
details
open daily (also on public holidays)
March and October 10 a.m. to 5 p.m.
April to September 8 a.m. to 6 p.m.
Greenhouses have shortened opening hours
Every first and third Sunday of the month, employees of the Botanical Garden offer public guided tours. The guided tours are free of charge and no registration is required.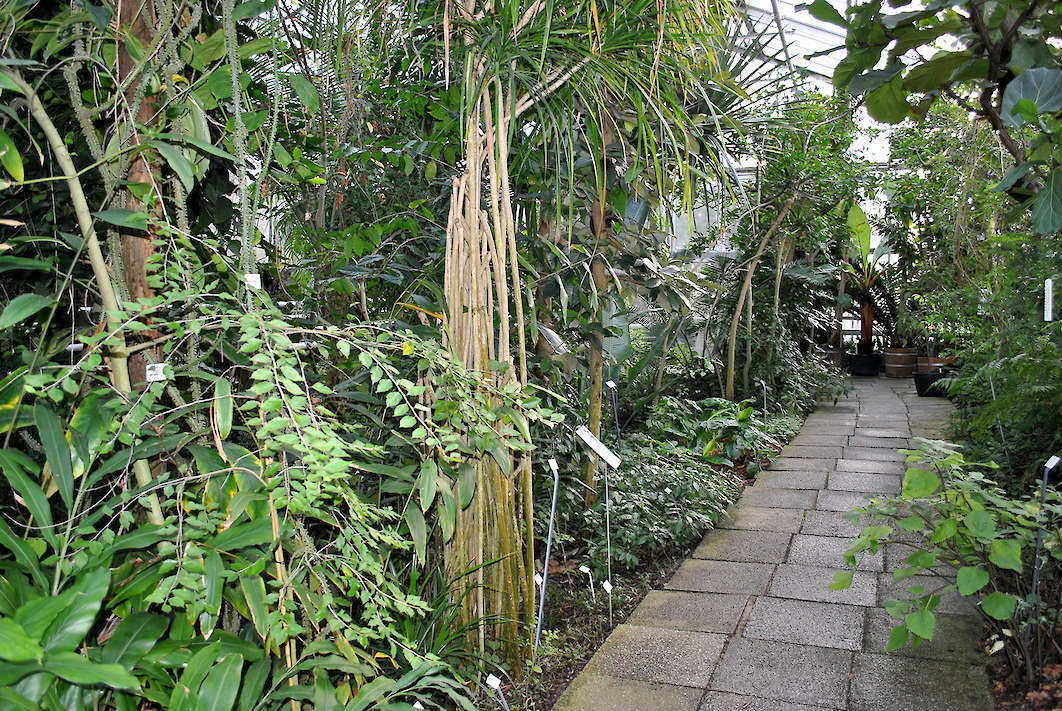 © Botanical Garden / Greenhouse
Botanischer Garten, Stübelallee 2, 01307 Dresden
EXHIBITION ABOUT THE SUN in the Hygiene Museum

The Hygiene Museum is my absolute favourite museum, and I have visited many exhibitions in all sorts of countries. No museum is like the Hygiene Museum. The temporary and constantly changing exhibitions are always reliably great, mega exciting and wonderfully critical. Here, with a lot of effort, everything is brought closer to you that constitutes or occupies people. This museum offers no exhibitions about toilet paper, but an exhibition about YOU!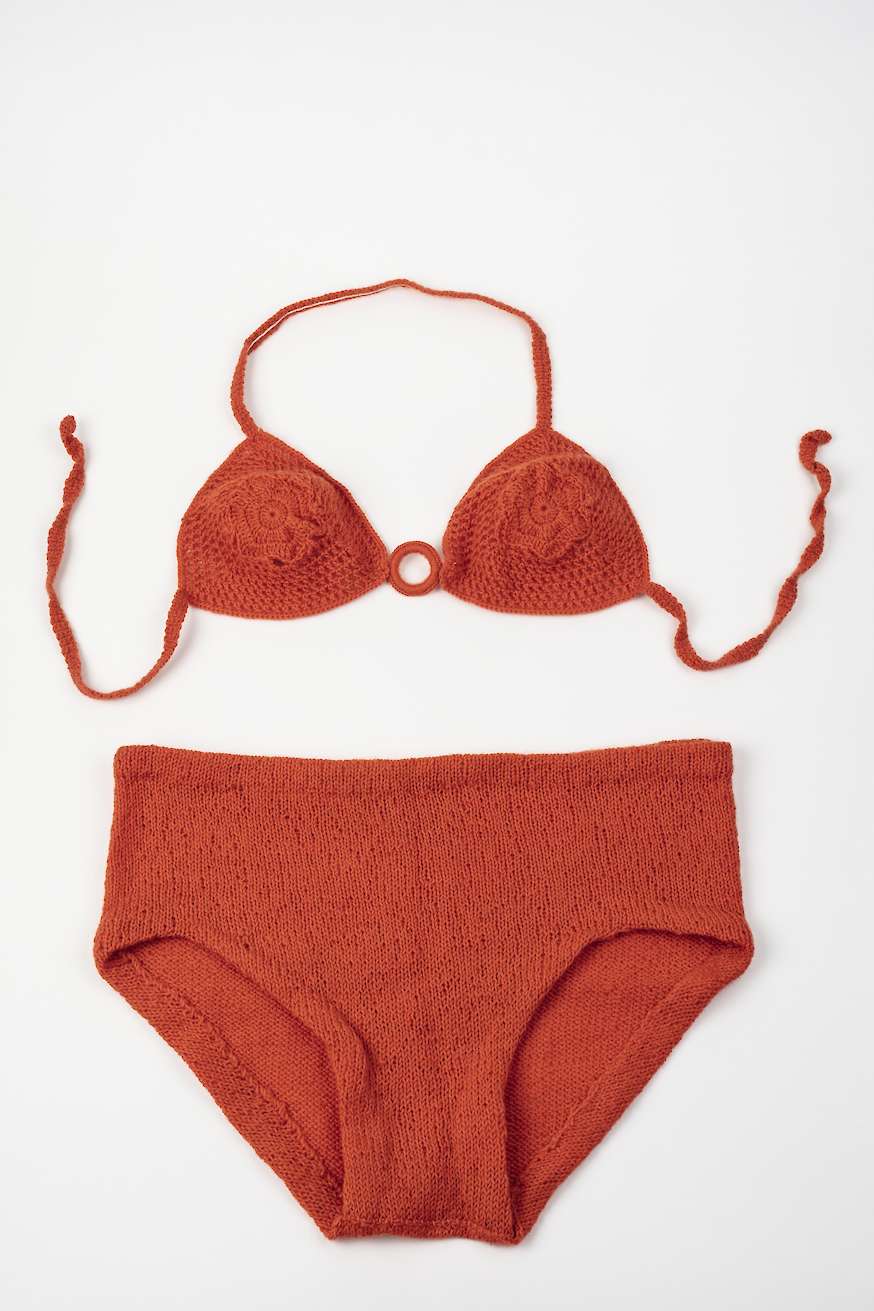 © German Hygiene Museum Dresden / Photo: Thomas Bruns
And now there is an exhibition SHINE ON ME. US AND THE SUN. The celestial body around which we turn every day at a speed of murder, pivot of human existence, basis of our life or symbol of God and creation! Without this nuclear fusion ball, which fights with gravity, we would be nothing. When I think about it, my own problems become very small and my self somehow grows bigger. I can only hope now that you understand what I mean.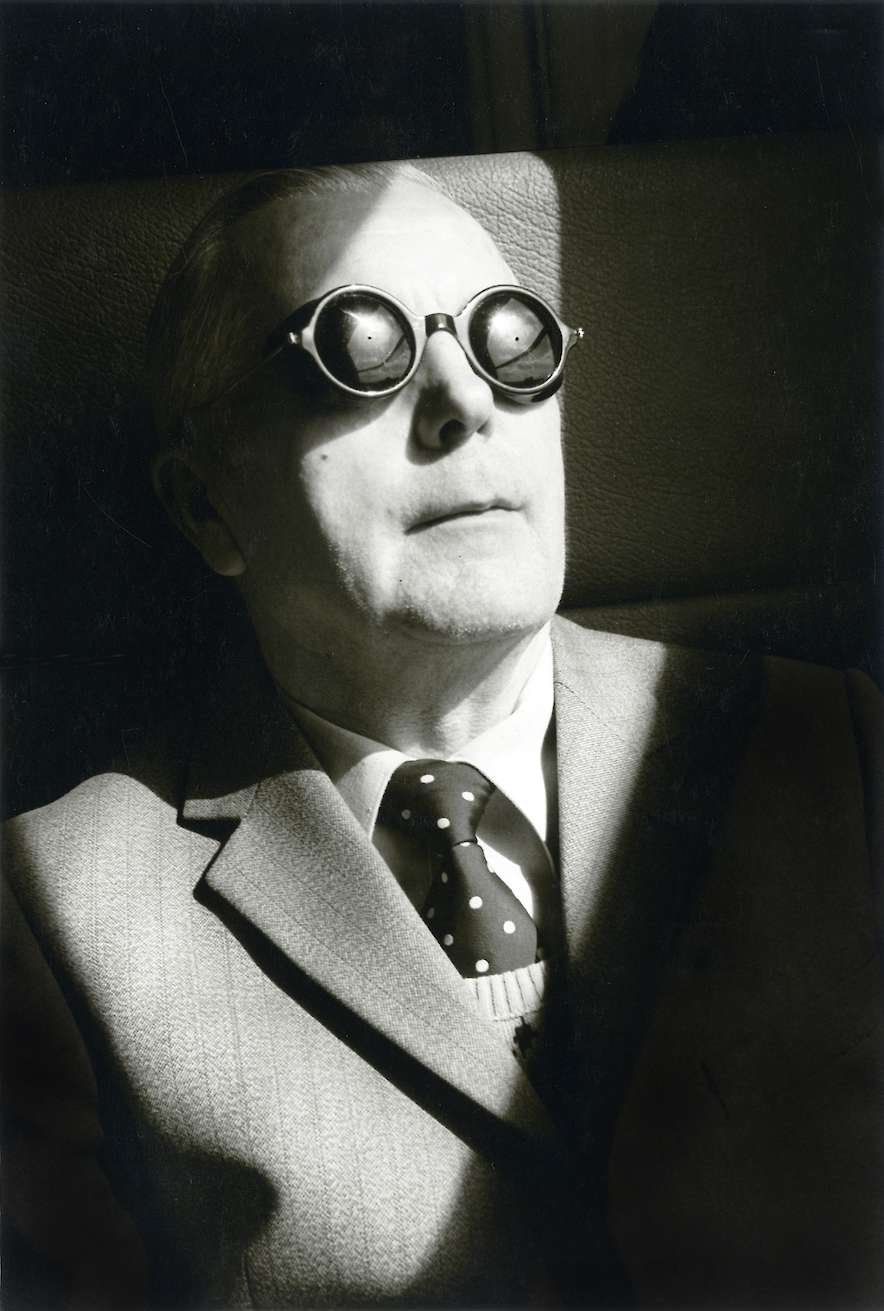 © André Gelpke / Courtesy Kicken Berlin
The exhibition illuminates various scientific, but also religious or artistic aspects of the sun and shows suitable works by various artists. GDR bikinis and solar probes are shown, it is about God or time, bombs and pop music... .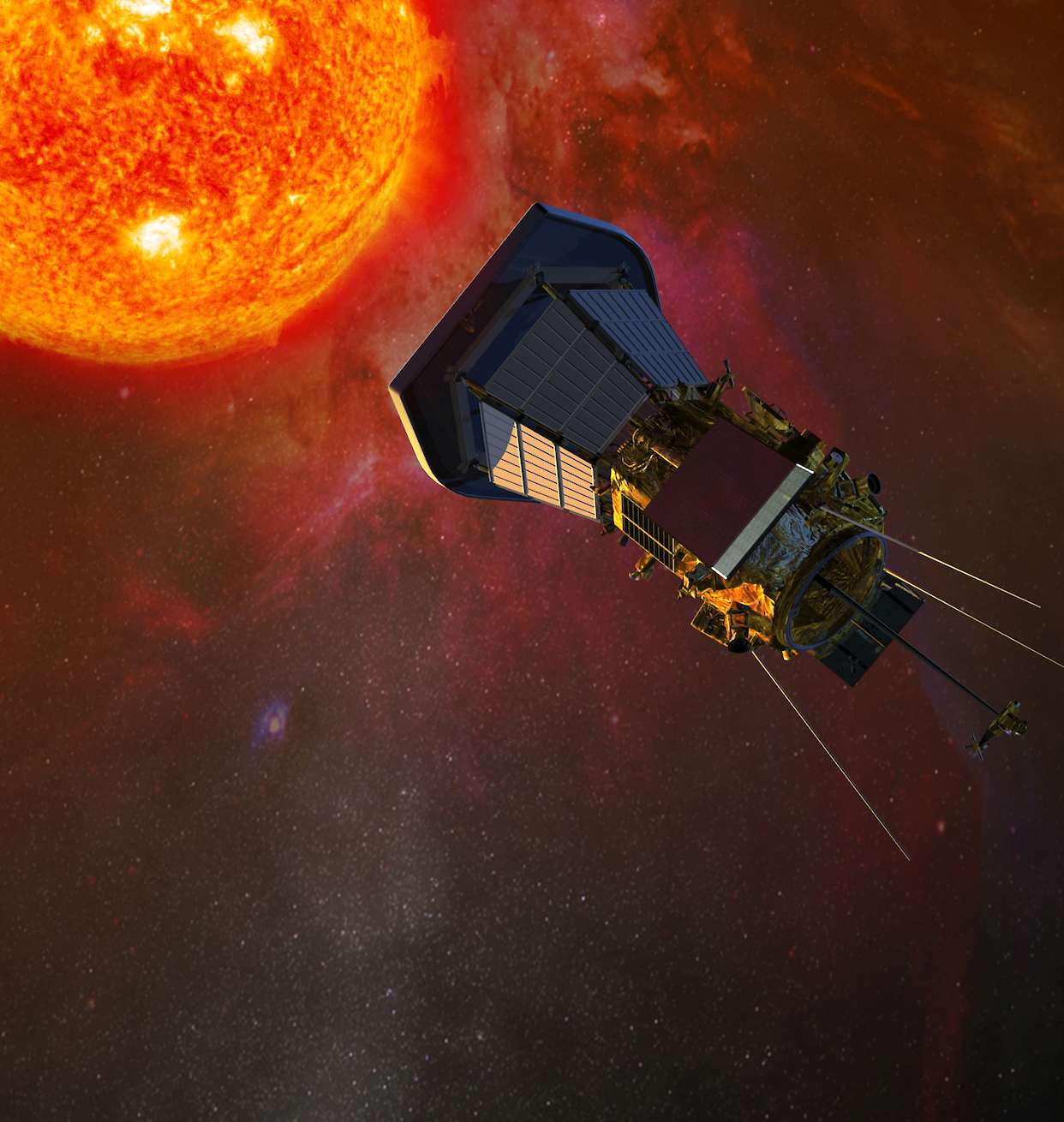 © NASA Goddard Space Flight Center, JHU / APL
The exhibition is still open until 18.08.2019
details
Admission 9 €, concessions 4 € (including the other exhibitions in the Hygiene Museum and audio guide, also in English)
Friday half price between 15 o'clock and 18 o'clock
An admission ticket is valid for two consecutive opening days. 10% discount with all other DRESDEN WELCOME CARDS (Dresden Museums Card, Dresden City Card, Dresden Regio Card, Dresden Tour Card)
Tuesday to Sunday and public holidays from 10 a.m. to 6 p.m., closed on Mondays
Hygienemuseum
Lingner Platz 1
01069 Dresden
BIER TASTING in the Hopfenkult Bar

"Drinking beer," especially in the winter months, it can help. I don't want to encourage anybody to "drink themselves happy", but you can actually learn something about one of the oldest human cultural assets at a well-done beer tasting (but you can also get to know people there) and get bossy about it and all that for a bomb price!
"Brewing beer" is not only an art in its own right, but was even essential for survival in the past, because only through the fermentation process did everyone always have access to a sterile supply of liquids. Today the "home-brewed" is on the rise again and in the "Hopfenkult", just around the corner from Lollis Homestay Hostel, you can taste not only local beers, but also internationally hand brewed ones at the "Open Bottle Night". Five different types from the range are presented in a relaxed atmosphere (monthly specials and newcomers included, but the normal range with around 200 beers is already large enough). Against the winter blues this is exactly the right thing! And best of all: you don't have to register! However, the number of participants is limited to 30, so you should be there in time.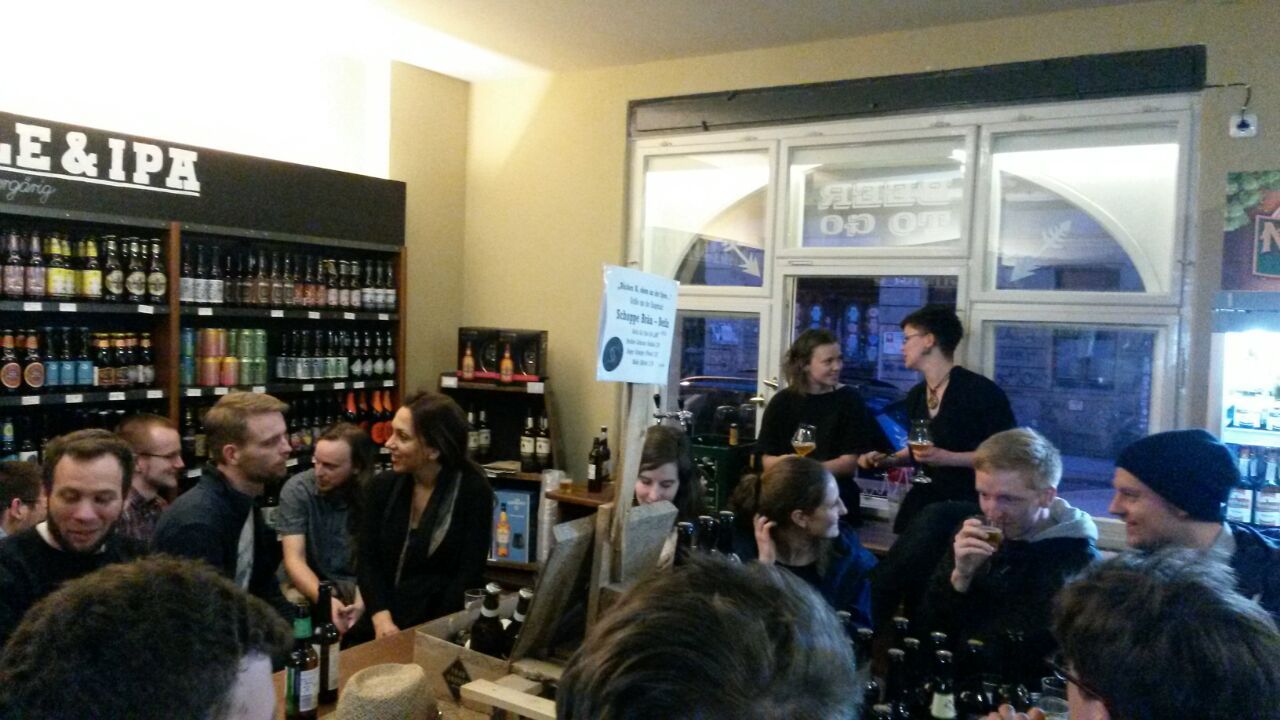 Open Bottle Night at Hopfenkult (© courtesy of Hopfenkult)
details
Participation fee 4 €
Start every Thursday and Friday at 8 p.m.
Starting from 19:30 clock the places are assigned
Every first Friday of the month the Open Bottle Night takes place in English.
Tues. to Thu. 14 to 22 o'clock
Fr. 14 to 24 o'clock
Sat. 12 to 24 o'clock
Hopfenkult - Craft Beer Store Dresden
Görlitzer Str. 25
01099 Dresden
WINTERSPORT near Altenberg

Binge watching and sofa lying for days on end is always justifiable with a clear conscience, especially in winter here in Dresden, where we are known for our Saxon cosiness. Courage to laziness! That has always been my motto. But I am also always happy when you can stretch your body again, lock it in or bring it to its limits, because only living in an extreme is boring and makes you stupid or sick in the long run. That's why I recommend all the more sporty activities that I enjoyed the most. Especially the fun should not be neglected in winter!
I just recently wrote an article about winter sports in Altenberg. If you are interested in cross-country skiing or downhill skiing, you should read this article here. You can get there from Dresden within an hour by public transport. No problem, if you don't have your own skis or shoes, you can borrow everything on the spot.
© Juliane Schäfer/ Cross-country skiing on 1 metre high snow in Schellerhau near Altenberg
GOING FOR A WALK at the Elbe River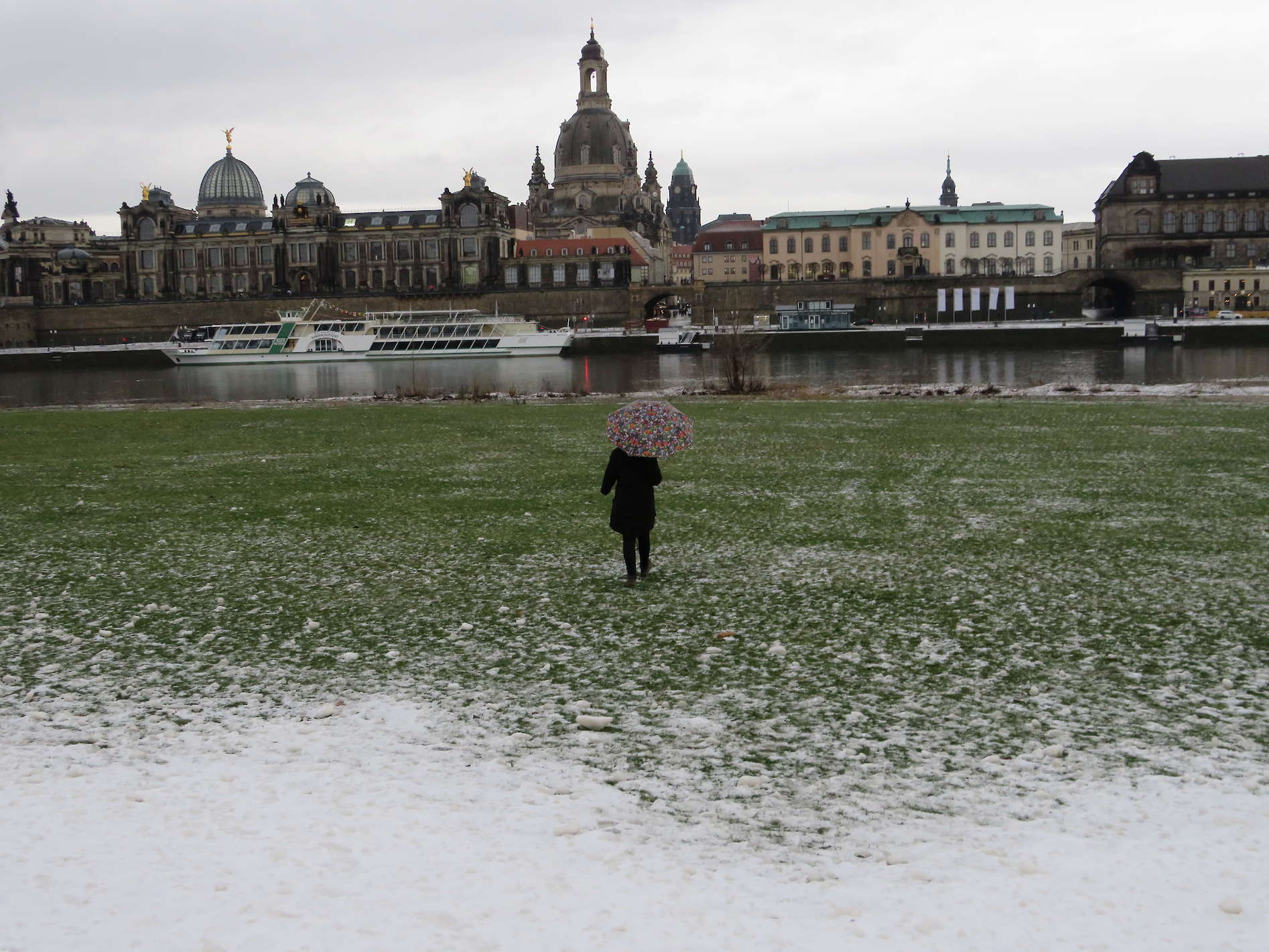 © Juliane Schäfer/ Walk along the Elbe in winter. Elbe paddle steamer in the background and Dresden's old town.
You don't always have to power yourself down, a little walk also helps. Get some sun and fresh air make you happy and help you to get through the winter. I recommend the castles/beer gardens for a walk:
Walk down to the river Elbe always upstream up to the Blaue Wunder Brücke (Blue Wonder Bridge, also an architectural eye-catcher). Cross the bridge and walk back downstream on the other side of the Elbe. This stretch can be done in about 1.5 hours, if you start at center height. Those who want to warm up in between stop at the "Schillergarten" (traditional coffee house where the German poet Schiller has already stopped), the Italian restaurant "Rosengarten" or the "Lignerschloss" (best free view of the city and the Elbe valley).
© Juliane Schäfer/ Selection of cakes in the Rosengarten Café
details
Schillergarten (Schillerplatz 9, 01309 Dresden), my recommendation: beer (Pilsener, of course)
Rosengarten (Carusufer 12, 01099 Dresden), my recommendation: coffee and cake
Ligner Castle (Bautzner Str. 132, 01099 Dresden), my recommendation: "Ligner lemonade"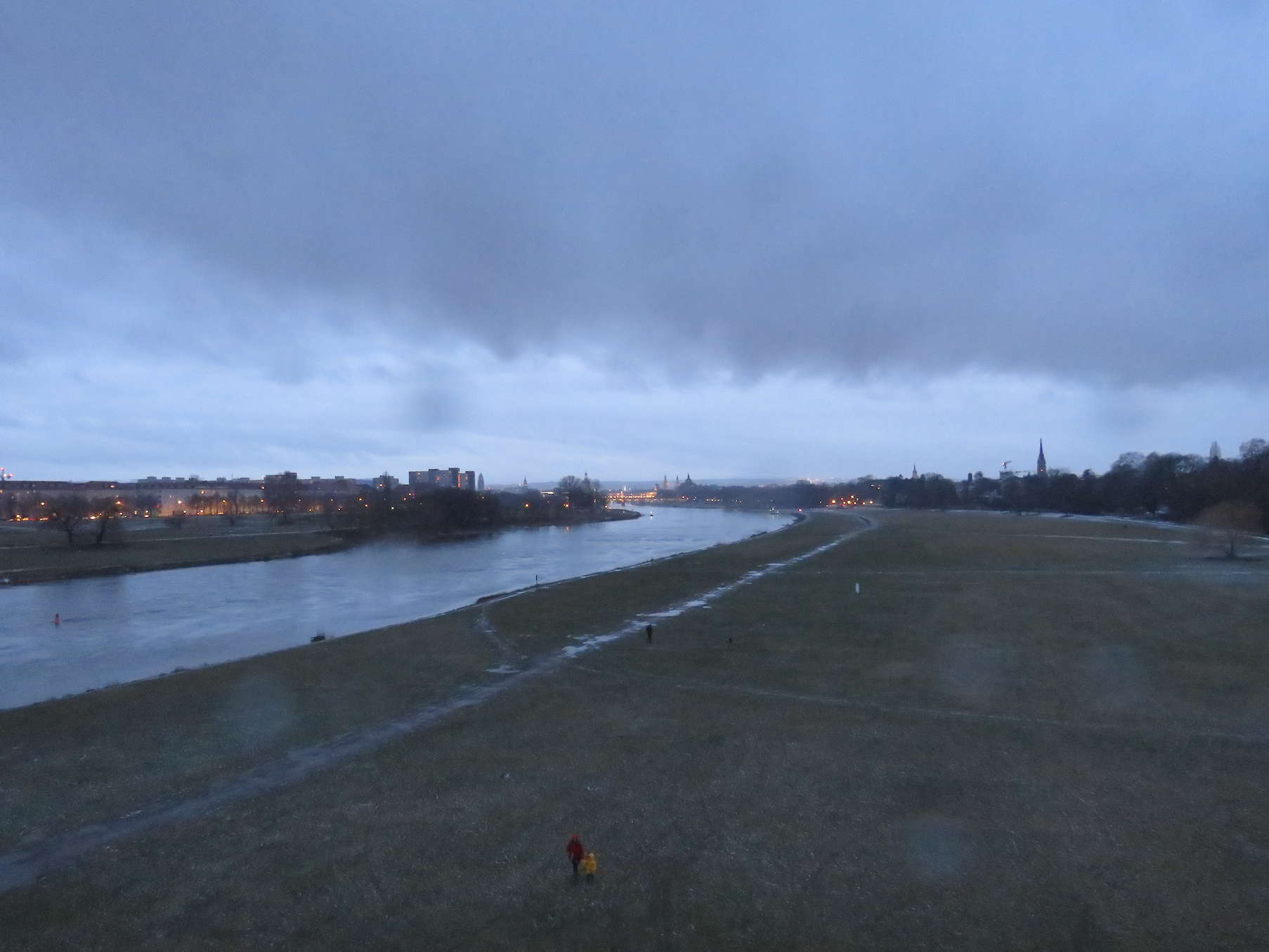 © Juliane Schäfer/ winter evening view of Dresden's old town - in the back. Recorded on the way to the Blue Wonder. It rains, but no matter!
SQUASH PLAY in the ball sports arena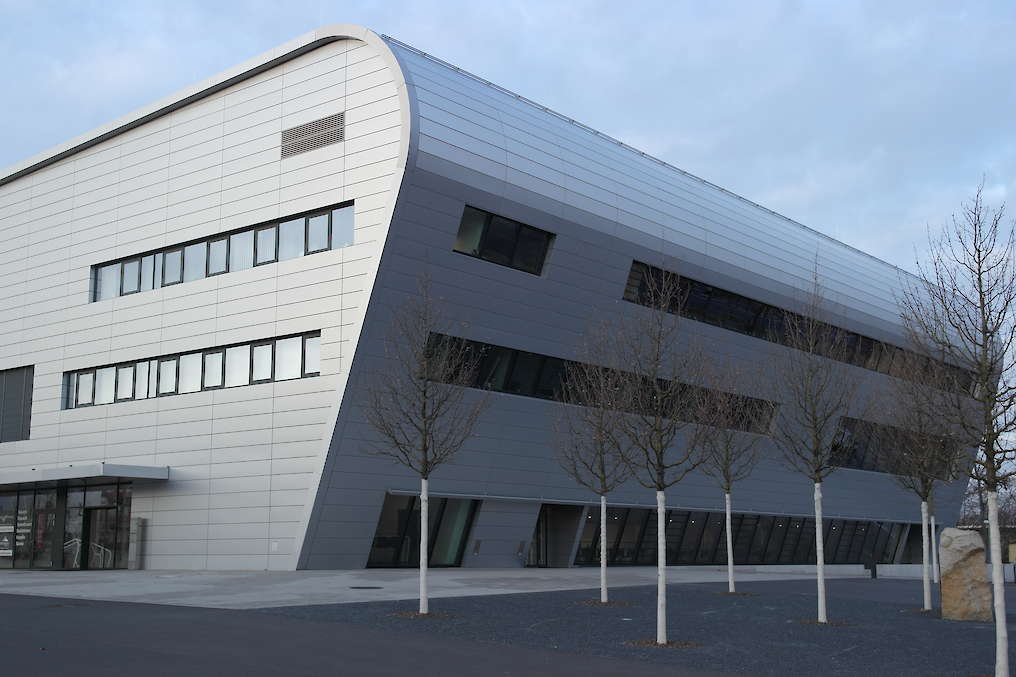 The BallsportARENA in Dresden, right opposite the Yenidze, is completely new and therefore not yet so crowded. There you can play squash wonderfully (you can also find bowling there, but I haven't tried it yet). Put on your sports clothes and power up for an hour on the court. The best thing is to do it in pairs. After that you can chill in the sauna as long as you want.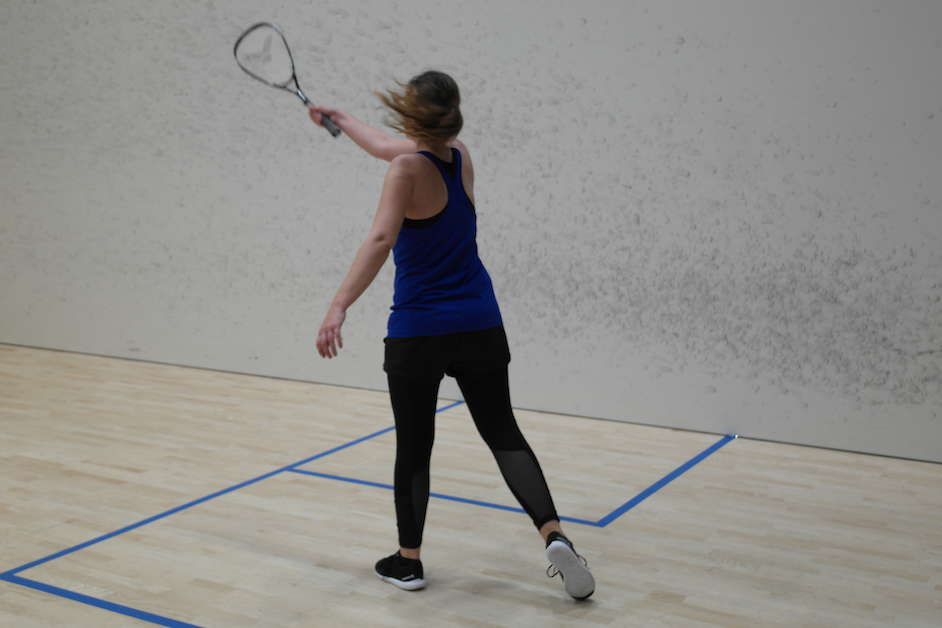 details
1 hour Squash costs 20 € (including 1 litre water)
racket rental 3 €, ball for 1,50 €
Sauna 5 € surcharge (but you usually have the sauna to yourself and can stay as long as you want)
Pre-booking can be done very easily via the website, payment is made on site.
Indoor shoes with a light sole are mandatory, sports equipment and towels for showering afterwards are also helpful.
HIKING in the Erzgebirge or in Saxon Switzerland National Park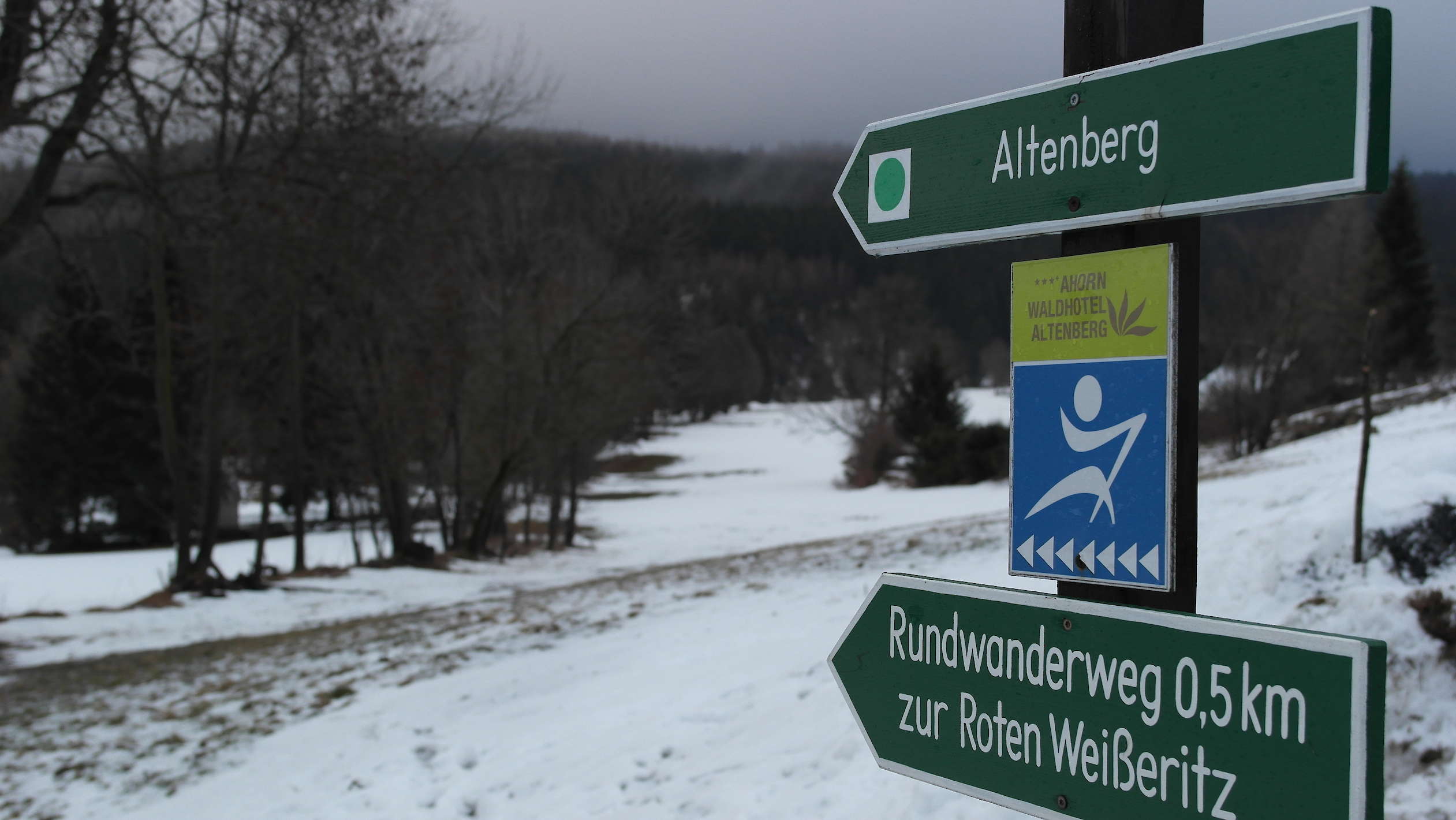 © Juliane Schäfer
Hiking is not only the miller's desire (old German folk song). Hiking is great and offers a lot if you appreciate it. Of course I recommend our Saxon Switzerland, where you should always go by public transport. Who drives with the car into a nature reserve is from the last millenium. The connection from Dresden to the nature reserve is very good and cheap, the journey by train alone is worth a trip!
We are lucky that there is no entrance fee, that tourists and climbers are tolerated and the visit is even encouraged! Therefore, one should observe a few basic rules that everyone should know: Don't light a fire, don't even smoke cigarettes here, don't throw your garbage into nature, don't throw handkerchiefs or banana peels and don't leave the marked paths.
Animals, mushrooms and plants live here, which are very rare. The Kirnitzsch (near Bad Schandau) is an extremely clean and worth protecting freshwater river, I have rarely seen anything so clear elsewhere. One can hike on the Saxon side of the national park on well developed and marked footpaths, which extend altogether over 400 km. On the Czech side you can continue walking without a border check (if you should be checked it is advisable to carry a passport). Here you will find caves, bridges and ladders and you can enjoy endless landscapes.
Those who hike here in winter should take rainproof shoes with them, scarf and cap are also not wrong. I always pack a thermos flask with tea and a flashlight in case you are surprised by the darkness. One should also always pay attention to the ferry times (to be seen directly at the crossing), if one has to cross the Elbe, as in winter, the ferries are shortened.
details
Start as early as possible, because in winter it gets dark again in the afternoon.
Arrival with the S1 (train) from Neustädter Bahnhof/ Hauptbahnhof/ stop Bischofsweg direction "Bad Schandau" or "Schöna" in half-hour or hourly intervals.
large transfer point from the train to the hiking buses can be found in "Bad Schandau".
Day tickets can be bought at the ticket machines at the stations (single 14 €, family day ticket, also good for 2 persons for 20 €, from 3 to 5 persons you take the group ticket for 29,50 €). All buses, ferries (except ferry in Rathen and ferry to Hrensko, CZ) and trams (in Dresden) are covered and you don't have to pay anything else.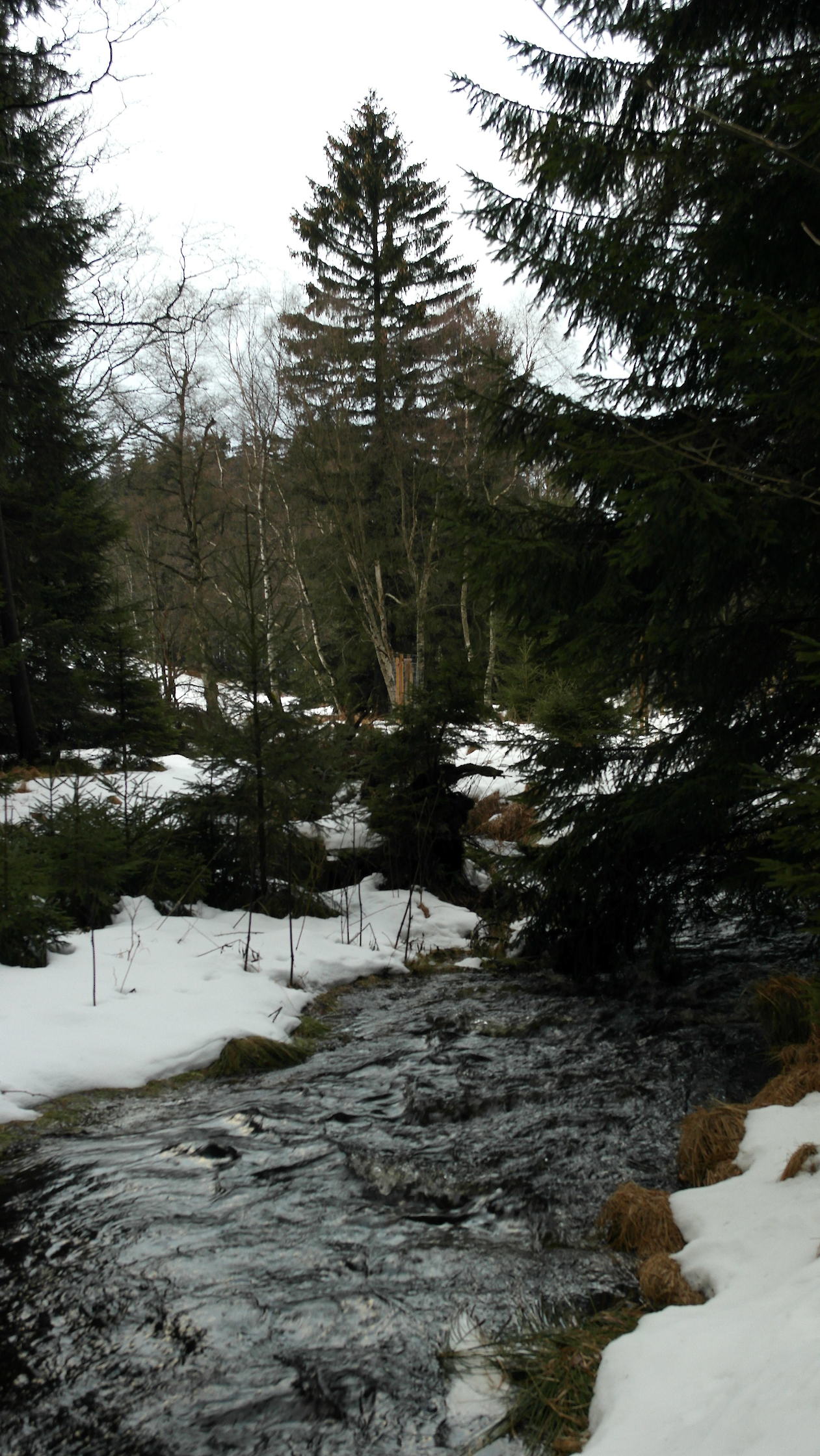 © Juliane Schäfer/Hiking in the forests of the Erzgebirge Mountains

Recently I have been exploring the Erzgebirge mountains and have been hiking there in winter. That was excellent! Here there are very extensive hiking trails past nature protected wild meadows, white water rivers and extensive forests. One can stop in one of the many old inns and drink the very good Erzgebirgische "Rechenberg- Pilsener" or admire Erzgebirgische woodcut art.
details
Bus line 360 from the main station towards Altenberg, get off at "Schellerhau" or "Altenberg" or alternatively take the S1 in the direction of "Bad Schandau" or "Schöna", change at "Heidenau" to the SB 72 (Müglitztalbahn), you will also pass Glashütte, where the world-famous watches are manufactured.
Day tickets can be bought at the ticket machines or, if you have the right cash, in the bus at the bus driver (single 14 €, family day ticket, also good for 2 persons for 20 €, from 3 to 5 persons you take the group ticket for 29,50 €).
INDOOR CLIMBING in the Bouldercity

Bouldering is climbing without a rope and at low altitudes, from which you can still jump safely if you lose your grip. Boldercity, right here in Neustadt, makes climbing possible in winter! There are two huge climbing halls with different levels of difficulty. You can buy or rent equipment there.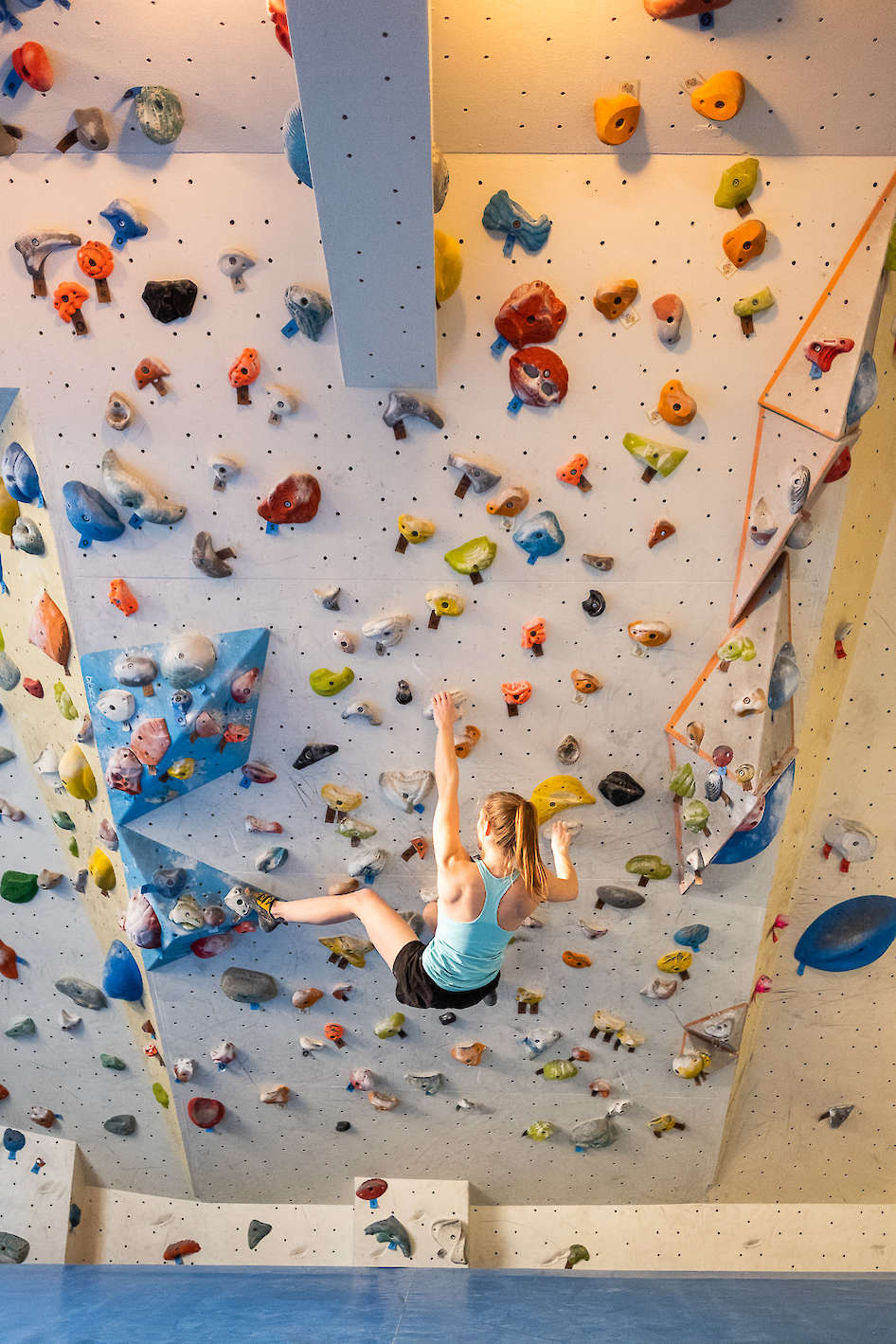 With friendly permission of © Bouldercity/ Climbing wall in the hall

Details
Monday 11 - 22 o'clock
Tuesday 9 - 22 o'clock
Wednesday 11 - 22 o'clock
Thursday 9 - 22 o'clock
Friday 11 - 22 o'clock
Saturday 10 - 22 o'clock
Sunday 12 - 22 o'clock
Prices: Day ticket 8 € (7 € for students)
Tuesday new customer day (free climbing shoe rental) and only 6 € entrance fee
Saturdays you get a free cocoa or coffee before 12 o'clock (there we have it again, the Feast- Saxons!)
Bischofsweg 32
[2nd rear building]
01099 Dresden, Germany
SAUNA AND SWIMMING in the Nordbad or Arnhold Bad

What could be better than tearing off your heavy winter clothes and immersing yourself in warmer elements, especially when it rains and snows outside? In the Neustadt you can sweat again in the Nordbad. An infusion is absolutely recommended by me, afterwards one goes warmed up and more easily by the life. There is a steam sauna, a Finnish sauna (with infusion) and a more moderate so called bio sauna (eco sauna), an ice-cold plunge pool and a warm pool. Up on the roof you can enjoy the fresh air and watch the new town from a different perspective. Nobody cares if you stand naked on the roof (why, we are here in East Germany). Great thing that. If you feel like it, you can swim a few more rounds in the art nouveau swimming pool (oldest indoor swimming pool in the city).
Details
Midnight sauna every last Saturday of the month (October - March), 9 p.m. - 1 a.m., incl. nudist swimming in the pool area
Monday is Warmbadetag (32 degrees Celsius)
for prices and opening hours see here
Louisenstraße 48, 01099 Dresden, Germany
---
The Georg Arnhold bath, on the other hand, is the bath of my childhood in the GDR. That's why I recommend it. Freshly renovated, it offers all kinds of activities for all water rats, from sauna to tube slides. My recommendation here is to break the water slides daily record (93 meters!)! You can see how fast you slid at the end of the tube slide on the monitor opposite. But there is also a large swimming lane in the deep pool for swimming and a large sauna landscape, as well as a direct transition to the open air to the four-season pool with a current channel.
Details
9 a.m. to 10 p.m. daily
Early swimming in the sports pool from 6 a.m. to 8 a.m. from Monday to Friday
Entrance to swimming pool
Early swimming rate 1,5 h 4,00 €
admission ticket 2,0 h 6,00 €
admission ticket 3,0 h 8,00 €
Day ticket 10,00 €
Admission to sauna
Admission ticket 2,0 h 16,00 €
admission ticket 3,0 h 18,00 €
Day ticket 20,00 €
Georg Arnhold Bad
Helmut-Schön-Allee 2
01069 Dresden, Germany
CAFE- TOUR in the Neustadt

Nothing works here in Dresden without cafés. I have already mentioned it: The people of Dresden love coffee. They even love drinking coffee so much that other Germans know them as coffee saxons (Saxony is the state of Germany). We like to make ourselves comfortable and we celebrate idleness. All kinds of stories entwine around us Saxons and coffee. So in winter you have to go to a cafe. But where to?
TEEGADROM
Admittedly, the Teegadrom isn't real cafe. But I put it first because the shop deserves it and it's perfect for winter evenings. Located in the middle of the nightly party area of Neustadt, the tea and games shop with its low cave-like ceiling hides behind a small wooden door. Many simply pass it by, but this shop is a locals primitive. There is not only excellent freshly brewed tea, but also a large selection of games (card games, carrom, board games, etc.). The prices are reasonable (also the beer). My recommendation here is the Russian smoked tea (mmmhhh...excellent, smoky, delicious), there I can also do without my cup of coffee! The owner Frank makes also unconventional, but beautiful ceramics himself, who would like to have a look.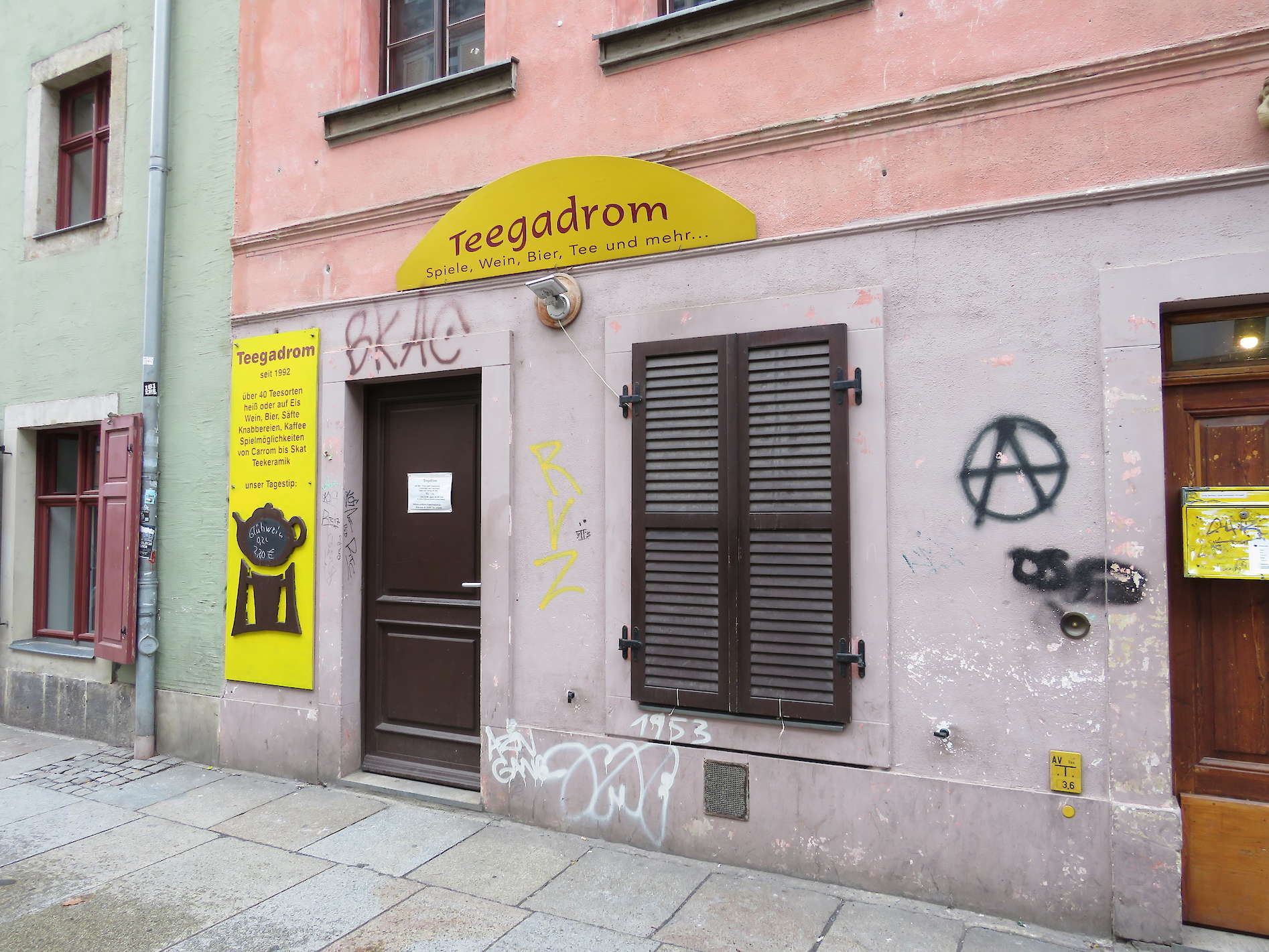 © Juliane Schäfer / the Teegadrom
Details
Monday to Sunday 16 o'clock to max. 2 o'clock
Louisenstrasse 44, 01099 Dresden, Germany
---
TIKI
An ode to the 60 year old ice cream recipes! Here you will not only find the best ice cream of Dresden. A gourmet paradise for waffle lovers or milkshake addicts! It's cosy, it's delicious, it's good and it's addictive! My recommendation here is the chocolate ice-cream cup (for 5,50 €, it is the best in town, really!) and the coconut chocolate ice-cream shake. Here you can now also try many exotic ice cream varieties such as sea buckthorn ice, grapefruit mint, cucumber juniper, coconut curry or mango basil ice cream.
The Tiki is not only good for the winter counter-ice, it is a small oasis from the South Seas. Furnished with bamboo, palm fronds and sea creatures, it will certainly give you a beach feeling! Aloah!
Details
Monday to Sunday from 10 a.m. to 8 p.m.
Görlitzer Straße 21, 01099 Dresden, Germany
---
NIBS CACAO
The Nibs is run by a very nice Argentine lady named Mercedes, who prepares her freshly baked churros herself fresh and warm. The churros are dunked in thick, thick and hot cocoa, which is amazing, if you bite into the churros.... ahhh! Then there's cocoa with hot chili, which is just the right thing in winter to heat up. So now you didn't even notice that I didn't recommend any good coffee spot here. I like typical Saxon "flower coffee", so I can't tell you a good coffee spot in Dresden, because I make the most delicious coffee (if you want to try it, you have to come to Lollis Homestay ;).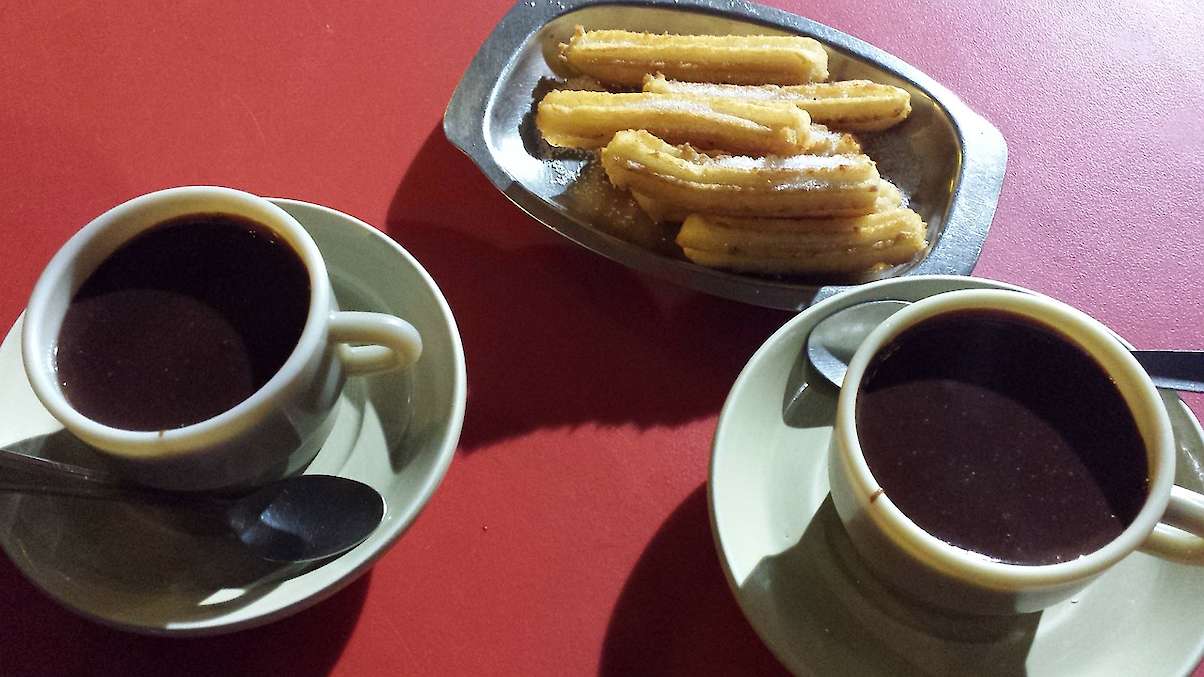 source: Pixabay/ Churros and hot chocolate
Details
Monday, Tuesday, Wednesday, Friday and Saturday: 11.30 a.m. to 7 p.m., Thursday, Sunday and public holidays: 2 p.m. to 7 p.m.
Kamenzer Straße 42, 01099 Dresden, Germany
---
If you can't do all that now until the end of winter, don't worry, I'm sure there will be another winter ;) I wish you a lot of fun exploring and a good time.
translated with www.deepl.com
30.01.2019, 18:30 @ Jule
Categories: activities · Dresden · surroundings · things to do · tips · travel // Tags: what can I do in Winter in Europe · what to do during winter time in Dresden · what to do during winter time in Germany · winter activities in Dresden · sport in Dresden · hiking in Dresden · going for a walk in Dresden · things you must see in Dresden · things you can do in Dresden when it is cold · tips for Dresden