You might have already had one of the USE-IT Maps in your hand when visiting towns like Antwerp, Barcelona, Bologna, Bruges, Brussels, Budapest, Glasgow, Granada, Oslo, Prague or many others.
Great news: There is now an app (download on Itunes for your I-Phone) out there, so you can already download and check around the city you want to visit even before you arrive. The app currently contains Antwerp, Bruges, Brussels, Dresden, Ghent, Leuven, Mechelen, Mons, Ostrava, Padua, Prague and Utrecht.
So here is what you get!
First you will be asked to download the content for each destination. Good thing about that: You just need to download what you need and your memory of your phone stays clean for your pictures & music! Also the app works completly offline from that point on. No need to waste precious mobile data or the need of a WiFi Hotspot :)
If there are any updates content wise, you can of course update it!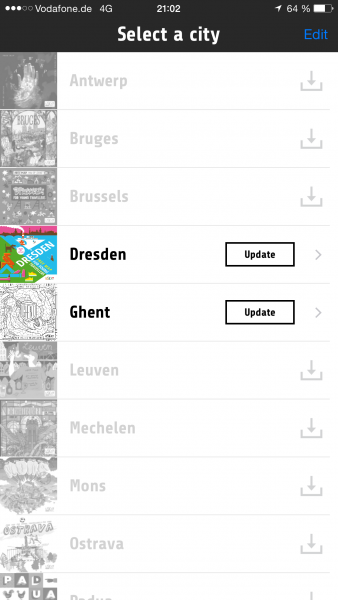 First you get the overview of the map of your destination. You can easily see all categories spread all over the city. You can either just choose one category at a time – for example if you ask yourself "Where do I find something to eat". Or of course you can also show all categories at the same time.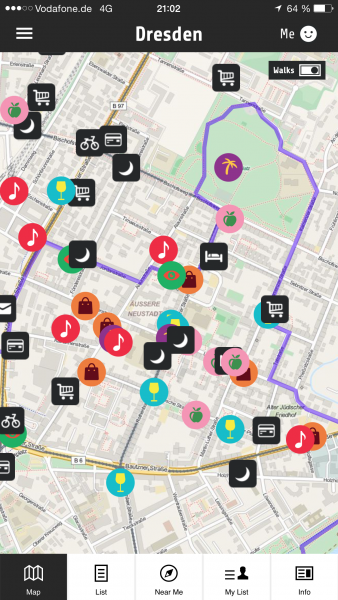 You can choose from: See, Eat, Drink, Shop, Chill, Go Out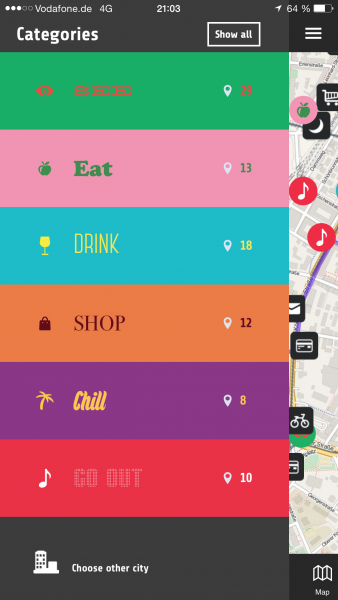 So if you have read about, for example, the "Kunsthofpassage" in Dresden somewhere, click on the Button to view the location on the map and get some information about it.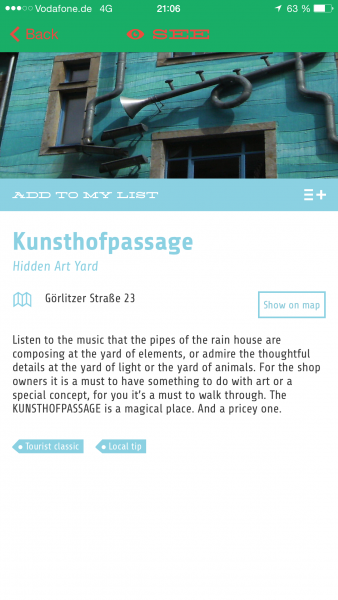 Of course you also will find all important sights, hostels, bars, parks, shops, nightshops, supermarkets, cash machines, post offices, bike rentals, bus & train stations or tourist offices.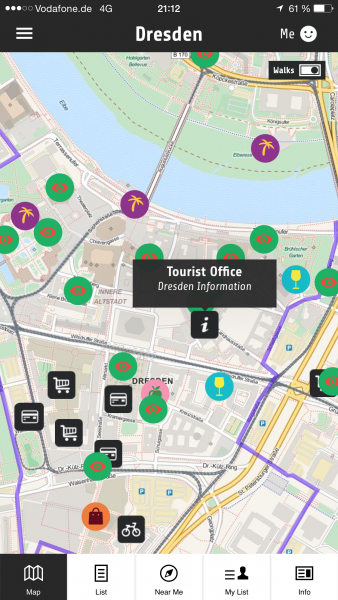 Instead of browsing through the map, you can easily browse through the list. Found something interesting? Click on it and get important information about the sight, opening times, homepage or entry fees. Add it to your personal list and hit the road to get there.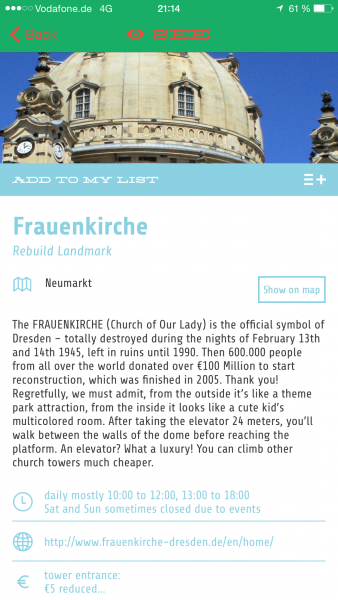 Choose the list "near me" to check out everything in your area. It will give you a rough idea about the walking distances! You can click on the info button to get some more fun facts about your destination.
So there also is a 5 minutes of history text to fresh up your history knowledge and more useful information. You also get some basic tourist information how things are going there. And of course some hints where to find the best party spots in town.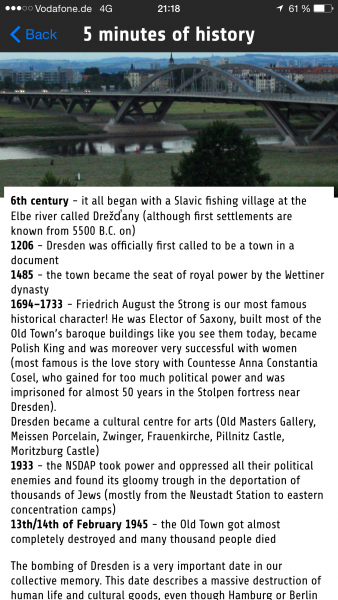 You can give your best in learning how to act like a local :)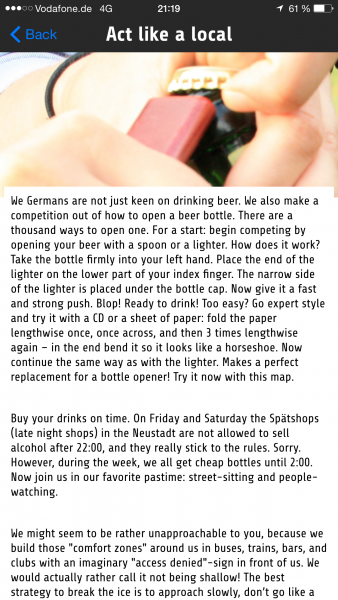 If you think, that you have seen all of Dresden, you can check out the surroundings.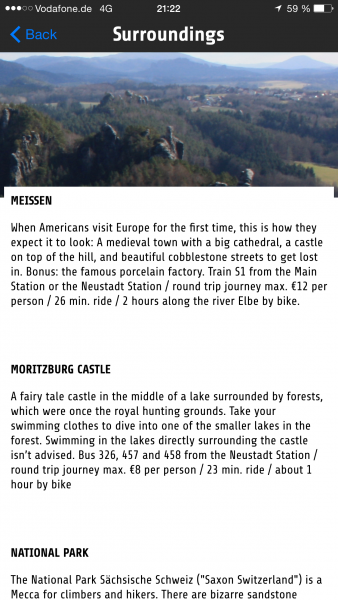 So but what makes this app so special in comparison to other city guides? And why should you definitely check it out?
There is a fun feature called "Walk the dog"
On your map there will be mans best friend walking a tour through the city. So take your leash and follow him. He will take you on a guided tour in real time. If there are others doing it at the same time as you, chances are pretty high to meet fellow traveller on your way!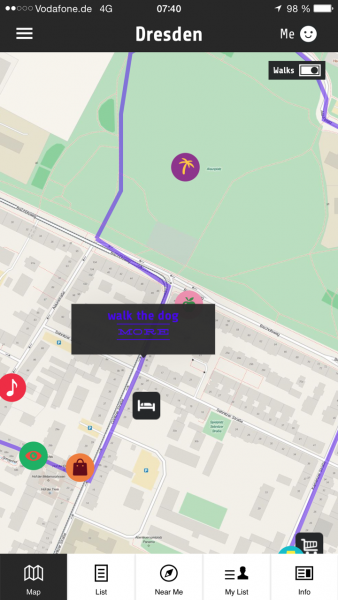 More good news: No strings attached! The app is totally free, no in-app purchases, nothing!
The USE-IT app has been financed through a crowdfunding campaign and donations of some municipalities.
If you feel the need to support the campaign in any way – be it some missing information, then contact them on Contact USE-IT! If you wanna buy their love, feel free to donate on Buy their Love!