As you know, we are in the middle of the holiday season and you surely have come across one of the many christmas markets in Dresden.
To give you a better overview of all christmas markets, we made a little list for you. Overall there are 9 different spots.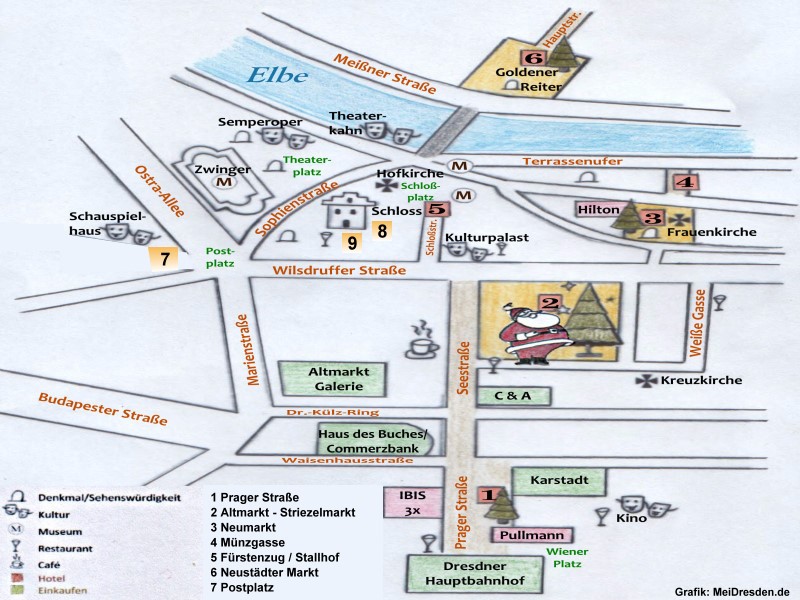 (1) Starting at the Dresden main station (Dresden HBF) you'll find the market "Dresdner Winterlichter" located on Prager Straße. It's open to public every day from 10am till 9pm until the 23rd December.
(2) The most well known christmas market, the so called "Striezelmarkt Dresden" can be found on Altmarkt, right in the city center. About 230 merchants are there with all kinds of christmas goods.
(7) On Postplatz you'll find the so called "Hüttenzauber" with food and drinks. During the evening hours there is some Aprés Ski Party.
(3) Infront of the Church of our ladies you'll find the "Advent auf dem Neumarkt" which is open until 10pm. It's very cozy and nice there.
(5) We've already introduced you the medieval christmas market.
(8) Inside the castle there is a cozy small christmas market
(9) Inside the Kempinski Hotel is an ice skating track with some real nice illumination.
(6) Located on Hauptstraße there is the so called Augustusmarkt
(4) And on Münzstraße there are also a view merchants.
Picture: Thanks to meidresden.com!